Idina Menzel Just Blew Everyone Away at the Super Bowl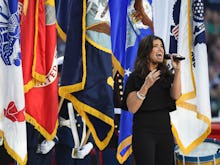 Super Bowl XLIX was over before the teams even took the field. Broadway legend and Frozen star Idina Menzel opened the game with a performance of the national anthem. It was a nerve-wracking moment: After she was slammed for her live performance of "Let It Go" last month at New Years Rockin' Eve 2015 for missing a note, this was Menzel's chance to prove haters wrong. 
And she absolutely nailed it:
She just proved the haters completely wrong. Menzel is more than just Elsa from Frozen; she's also one of the most accomplished vocal performers of the last 20 years, and a Tony Award winner. She's stood on big stages before, but none as big as the Super Bowl. She's a true professional, though, and she wouldn't let the hate get her down. After her New Year's Eve performance, Menzel responded on Twitter with this perfect summary of why she's more than just "the notes that she hits": 
She can't be stopped. Menzel will perform again later tonight at 9 for VH1 + Papa John's Super Bowl Blitz: A Concert for the Troops, where she'll talk to a crowd of American military members about the importance of the national anthem. But she's already had her biggest win for the night — she just proved exactly why she's a legend.