Astrophysicist Neil deGrasse Tyson Is the World's Greatest Super Bowl Commentator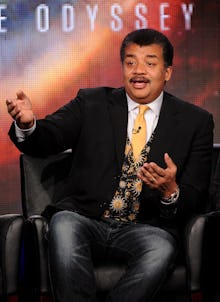 Football, it turns out, is all about physics. 
Neil deGrasse Tyson — the world's most famous astrophysicist, the host of Cosmos, the man who demoted Pluto, coined "Manhattanhenge" and holds 17 honorary doctorates plus the NASA Distinguished Public Service Medal — became Science Twitter's unofficial explainer of all things football during Super Bowl XLIX. 
After announcing that he would be analyzing the big game from a scientific perspective, the coolest scientist in the world started dishing out analysis that John Madden and Terry Bradshaw only dream of being able to provide, using his scientific mind to address everything from #DeflateGate to the Grand Canyon:
He also defended New England Patriots quarterback Tom Brady by deflating #DeflateGate:
Some of his commentary was a little tangential:
But his halftime critiques were on fleek:
This was the best part of the game. For those of us who were too busy in chem lab to hit the gridiron, America's coolest space nerd added an invaluable dimension to Super Bowl Sunday. Stereotyping about football and the people who love it has led to dismissal of organized sports by large segments of the scientific and academic communities. Tyson shows that it's not just rabid fans who enjoy or appreciate football — even a genius can enjoy the beauty of a perfect spiral.