This Is the Empowering Super Bowl Ad Every Sports Fan Needs to See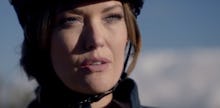 As an estimated 110 million people tune in to the NFL's Super Bowl tonight, it's important to remember the many thousands of athletes who are systematically ignored in the sports world, especially when it comes to femininity and ability. This year's Toyota Super Bowl powerfully shatters both stereotypes, however, with its empowering portrait of Amy Purdy, proving you don't have to be a dude or able-bodied to be objectively badass.
The ad, entitled "How Great I Am," gives Americans a glimpse into the thrilling life of Purdy, a Paralympic Olympic medalist who won a bronze medal in snowboarding in 2014. In addition to being an incredibly successful athlete, Purdy is also a disability advocate and was a finalist in Dancing With the Stars.
Although almost half of professional athletes are female, yet they receive significantly less media coverage than men. In fact, women only get 4% of total airtime and if they do get exposure, they are more likely to be portrayed in an objectifying or sexualizing light. 
Given that the Super Bowl is a sporting event that revolves around men playing a stereotypically masculine contact sport, it's refreshing to see an ad that focuses on a female athlete, especially one with such unique talents. More women tune into the Super Bowl than the Oscars, Grammys and Emmys combined, so women are paying attention and advertisers are finally listening to them.
With a such a huge audience, the Super Bowl is the most watched television event of the year. That means that this message of female empowerment won't just be reaching sports fans, it will be reaching a massive and much broader demographic. 
Female athletes with a disability are almost invisible in our current media landscape, it's nice to see Toyota make a small but important step in the right direction.