Missy Elliott Just Stole the Show at the Super Bowl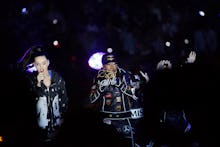 It's been seven months since we've seen hip-hop legend Missy Elliott, and it's official: She's back. 
Midway through Katy Perry's Super Bowl halftime performance Sunday, Elliott showed up with a posse of backup dancers and stormed her way onstage. The longtime Timbaland collaborator started out her montage with "Get Ur Freak On," moving on to "Work It" and ending on "Lose Control." And in the process she reminded an estimated 111.5 million people why she's a legend.
This was the best possible surprise. Perry teased last week that there would be a surprise guest, saying, "I wanted to bring someone back... It's a bit old school. When this person enters the stage and you hear the first ring of the chord I think jaws will drop and faces will melt." 
And she was right: Missy "Misdemeanor" Elliott melted everyone's faces. Odd as the collaboration may seem, the Perry-Elliott mix is actually not so out-of-the-ordinary. Elliott made an appearance on Perry's 2011 remix of "Last Friday Night (TGIF)." Once again, they proved that they were a perfect match.
This might be Elliott's big comeback. She's been missing from the music scene for a long time; her last album, The Cookbook, came out in 2005. That's because in 2008, she announced that she'd been battling a rare disease called Graves' disease. Her performance at the Super Bowl was an awesome reminder that not only is Elliott still totally relevant and exciting, she's not going anywhere anytime soon. In fact, if we're lucky, she seems primed for a huge comeback.