Chevrolet's Super Bowl Ad Is Everything Wrong With How We View Masculinity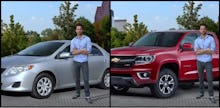 It wouldn't be the Super Bowl without at least one advertisement to remind everyone what a stereotypical "real man" looks like. This year's example comes courtesy of the creative minds at Chevrolet.
One of the motor giant's commercials this year featured a focus group of "real people," one of which is composed solely of women. Each group is shown two images of the same man. The big difference? One photo shows the actor posing with the average car. In the other, he's standing alongside the much bigger and broader Chevy Colorado, a typical pickup truck. When asked which man is sexier, virtually all of the women say the man with the truck.
While ostensibly designed to sell cars, this ad also perpetuates the theory that men are unattractive and worthless — unless, of course, they buy into the idea that "bigger is better." Their female counterparts, on the other hand, are meant to perpetuate the idea that they should all be lusting after a specifically macho, hyper-masculine man. 
And it's all packaged in a subtle, yet benevolently sexist message: "You know you want a truck."
The truck doesn't make the man. "This guy is definitely the guy your mom wants you to marry," one of the female participants says, pointing to the man next to the sedan, before pivoting to the photo of the man with the truck. "And this is the guy you're going to run off to and leave [the guy with the car] to be with him."
It may go without saying that this commercial is unbelievably shallow. But attaching value to objects that are marketed as "tough" may influence men to repress their true selves, preventing a healthy range of emotional expressions in favor of consistent roughness and virility. 
This ideal has negative effects on how we view women too. Hegemonic masculinity encourages a static view of men as dominant and women as docile — and heterosexual, of course. What's worse, Chevy's ad comes during an evening that has largely been lauded as classier and arguably a lot less sexist than past years, and which included both a PSA on domestic abuse and an ad celebrating female Paralympian Amy Purdy. 
Men don't need a truck to be attractive or a worthy partner. Americans deserve better, even during the Super Bowl.