These Were the 13 Greatest Moments of the Super Bowl Halftime Show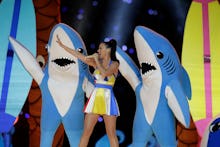 Katy Perry is arguably the biggest pop star in the world right now. Other pop stars come and go —  surge in popularity and then fade. But Perry doesn't. Her current tour, Prismatic, is the largest of the last year by a female artist, grossing more than $146 million in 2014. She has 64 million Twitter followers, more than any other celebrity. Her Super Bowl show was her chance to remind the world that she's one of the best entertainers we have, and she knew it. As she told Billboard, "Everyone has been asking me if I'm going to be nervous before the halftime show. I'm like, I'm fucking human. This is the biggest event of my career."
But when showtime came, Perry proved to the world that she deserves her iconic status. Here are the 15 best moments from an unforgettable Super Bowl halftime performance: 
1. When Katy Perry rode a (PETA-approved) giant metallic lion through a field of balloons while wearing a Blades of Glory-inspired flame outfit:
2. When the only lip-synching was this earth-shattering roar:
3. When she did a chess-inspired interpretation of "Dark Horse":
4. When Lenny Kravitz shredded on "I Kissed a Girl":
5. When she whipped her hair with inspiring intensity:
6. When she sang "Teenage Dream" with life-size cartoon sharks:
7. ...and then hip-checked a beach ball:
8. When the guy holding the wave cutout silently stole the show:
9. When California Girls took over the stage:
10. When Missy Elliott came back full force in a NASCAR pit crew uniform:
11. When Perry rode an NBC "The More You Know" shooting star:
12. As fireworks lit up the stadium to "Firework":
13. And Taylor Swift still never even got mentioned.