Katy Perry Just Proved Her Haters Wrong with an Amazing Super Bowl Halftime Show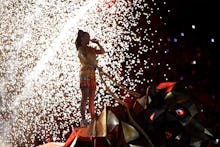 There were a lot of doubts about Katy Perry's Super Bowl halftime show Sunday night. And she just shut them all down. 
Her show was one of the most joyful, kitschy and goofy halftime shows we've seen in years. From literally riding a gigantic lion into the stadium during "Roar" to flying off the stage on a shooting star during "Firework," Perry's performance didn't take itself at all seriously. Instead, it was ridiculous and a ridiculously good time — exactly what a halftime show should be.
This is what fans love about Katy Perry. "I want the show to be quintessential Katy," Perry told Billboard in advance of the show. "It's like the exclamation point on the whole last cycle. This is the cherry on top of everything I've already done."
And she's done quite a bit. She is an entertainer in the purist sense of the word. She sang six of her nine No. 1 hits, and each reimagining of the song was more fun than the last. The animatronic lion and the shooting star weren't even the high points: She also sang with fully costumed Nick Jr. sharks who danced along with "Teenage Dream" and "California Girls." 
Even animal rights group PETA loved it:
It was a brilliant team effort too. Missy Elliott and Lenny Kravitz absolutely killed their respective sections. Missy Misdemeanor ran through three of her hits, dancing right up to the camera, and owning her return to live performance in the best way possible. Her epic interlude also gave Perry just enough time to mount a shooting star platform to soar over the crowd for the finale.
This was Perry at her absolute best. This is exactly why she sold out more than 80 arenas in 2014, grossing more than $146 million, according to Billboard Boxscore. Her Prismatic tour was the biggest of the year by a female artist, and this performance will only extend it further. It was the best possible proof of how much there is to love about Katy Perry.