What You Learn About Love When You Hand Out 2,000 Valentine's Day Cards to Strangers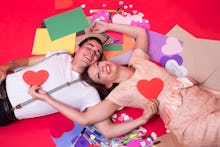 "Love" is a word that gets thrown around a lot, especially as our nation's annual celebration of all things romantic looms large. 
But Erika Anderson stumbled upon a beautifully simple understanding of the word, not to mention this thing we call Valentine's Day, in her quest to give out free valentines to everyone in her path.
Anderson's project started in 2013, when she decided: "Fuck this, all of New York is going to be my valentine." So she made hundreds of Hello Kitty Valentine's Day cards and distributed them on her commute to unsuspecting subway riders. The next year, the project earned the hashtag #armyoflovers, a slew of supporters and some media coverage, which enabled Anderson and her fellow "soldiers" to hand out more than 2,000 valentines in New York City and around the world.
Reactions to the free valentines, Anderson told Mic, have revealed a lot about what people really need and want out of a day like Valentine's Day: 
"I have seen grown men jump for joy and say 'You made my day, you made my day.' I think we get these sort of societal ideas about gender: Men are tough and they don't need anything, or women are desperate. But we all need love. We all need some recognition."
"We all need love. We all need some recognition."
That simple need for recognition is what makes Anderson's Army of Lovers project so powerful. People can feel depressed and cynical on Valentine's Day, Anderson said, but more often people are indifferent. They move through the day without feeling anything special. 
"A friend called [my project] this year's 'assault on meh,'" she said. "It does feel a little frivolous and ridiculous, since Valentine's Day doesn't really matter or anything. But I like the idea of transforming it to the idea of giving valentines to everyone."
If Valentine's Day can serve as a day to simply get people to smile at each other and feel recognized in a big lonely city, then that's a holiday worth celebrating. 
You can participate in this year's Army of Lovers by visiting the blog, hosting a crafting party or just finding other people in your area who are giving out valentines. This year, Anderson tells Mic that she hopes to give out 5,000 Valentine's Day cards.