Will Ferrell, Kevin Hart and Jimmy Fallon Had the Most Intense Lip-Sync Battle Ever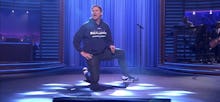 There's lip-syncing, and then there's lip-syncing. 
While hosting a special post-Super Bowl live edition of The Tonight Show in Phoenix's Orpheum Theatre on Sunday, host Jimmy Fallon invited comedians Will Ferrell and Kevin Hart onstage for what would go down as one of the greatest lip-sync battles ever broadcasted on late-night TV.
Take a look:
Ferrell led things off with his super-sexy take on Beyoncé's "Drunk in Love," while Fallon followed up with perennial favorite "Since U Been Gone," by Kelly Clarkson. Hart slowed things down a bit with John Legend's "All of Me," during which he made a hilariously endearing onstage connection with Ferrell.
The second round gave us Ferrell singing Frozen's "Let It Go," a smart choice given how insanely popular it is with anyone who has a heart. For his second, Fallon brought in a ringer; actress Drew Barrymore joined him for the Bill Medley and Jennifer Warnes classic "(I've Had) The Time of My Life" from 1987's Dirty Dancing. Last but not least, Hart paid a tribute to Super Bowl halftime star Katy Perry with "Roar."
Fallon has a bit of a history of challenging his guests to lip-syncing contests, but given the scale of the Ferrell-Hart throw-down, this was one for the books.
Or, as host Jimmy Fallon put it, "You can't unsee that."