This Man Shamelessly Harassed a Woman Mid-Flight — Her Reaction Changes Everything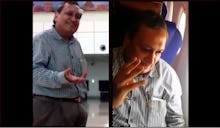 Men who harass women in public generally seem to do so under the impression that they won't be challenged for their advances. But maybe they should rethink this assumption.
Over the weekend, YouTube user Shreyas Rao uploaded footage of a man being publicly scolded by a woman for his allegedly abusive behavior during an Indigo flight to Bhubaneswar, India. The Jan. 31 video focuses on the disgraced passenger, who hides his face while begging the aggrieved woman for forgiveness. 
"You're asking for forgiveness. Why? Because I'm a girl? And you have the right to touch my anytime, anywhere you want to?" she said. "What forgiveness are you asking for? Did you do it only once? Was it by mistake?" 
The unidentified male passenger continues to apologize, but she doesn't back down.
As the video's uploader wrote in the video's description, the victim says she was seated in front of the man, who during the flight put his fingers in the seat gap to touch her. 
"Then the moment flight touched down, I got up. Saw his hand was again on the side ready to take up any opportunity to touch me," she said, according to Rao. "I created such a scene. ... He thought like usual girls will keep quiet and he can get away with this. ... I made sure [to] humiliate him as much as possible because I know [the] law will do nothing."
"You thought I didn't know what was going on and I would stay quiet, right? Only us girls are expected to have shame. You have a right to be shameless," she continued, according to BuzzFeed India, which translated the mix of Hindi and English spoken during the exchange. 
The woman also followed her alleged attacker off the plane, where she continued to lecture him on the proper way to treat women. A second video surfaced on Feb. 1, uploaded by Buzz Laundry, and shows the man continuing to apologize profusely as she follows him in the airport. "You decided the action, I will decide the reaction," she said. 
While it is unusual to see this type of reaction caught on film, the prevalence of street harassment cannot be understated. Women in India are often forced to contend with unwanted male attention as part of the country's documented rape culture: According to a July 2014 report in the Times of India, the National Crime Records Bureau data shows that 93 women are raped in India every single day. Numerous other reports in recent years illustrate the toll it takes on Indian women. A 2009 survey from the Center for Equity and Inclusion, for example, revealed that 82% of Delhi women find most buses unsafe and 96% of the women feel unsafe to travel alone. 
This video is part of a larger, ongoing conversation happening in India and around the world that aims to create a culture where street harassment isn't only prevented, but is understood as unacceptable. Other recent examples include the Hollaback! video illustrating what many women encounter while walking the streets of major cities such as New York. And in January, boxing gear company Everlast released a PSA in Peru that showed serial cat-callers unwittingly harassing their disguised mothers.
It's important to note that street harassment happens across genders, but the issue disproportionately affects women. As more women publicly stand up to those who verbally or physically harass them without consent, awareness of this important issue rises. In the process, it helps to make public spaces safer for everyone. 
h/t BuzzFeed