Missy Elliot Just Proved She's Still the Greatest Female Rapper of All Time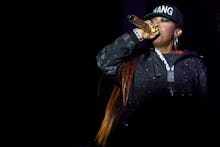 During Sunday night's Super Bowl halftime show, hip-hop mogul Missy Elliott reminded everyone that, after nearly a decade out of the spotlight, she can still truly kick ass. As Katy Perry's surprise guest, Elliott spit her hits "Work It," "Get Ur Freak On" and "Lose Control" during a three-minute medley. Pretty much everyone agreed that Elliott worked it, and lots of people said she stole the show right out from under Perry. 
It was a joy to watch, but no one was happier with the result than Elliott herself. The hip-hop legend may have dominated last night, but she had some extremely long odds. For a little while now, Missy Elliott has been considered a relic. After last night, that's about to change.
She's been absent for too long. Elliott's appearance was especially exciting because she's been out of the spotlight since her last full-length album, 2005's The Cookbook. While Elliott, now 43, collaborated on some singles in the years following, she was sorely missed as a solo artist in the hip-hop community. In 2011, she revealed in an interview with People that for more than a decade she'd been battling Graves' disease, a rare autoimmune illness that causes a hyperactive thyroid, hence her extreme weight loss. 
In the time that Elliott's been out of the spotlight, lots of people forgot how fundamental she was to hip-hop. In fact, some people forgot she existed at all. But her legacy is hugely evident in today's music scene. Last year was declared the year of the female rapper, and not one of the breakthrough female MCs — Azealia Banks, Angel Haze, Nicki Minaj and Iggy Azalea especially — would have a stood a chance in the mainstream without Missy "Misdemeanor" Elliott.
She's been an innovator since the beginning. In the early '90s, Melissa Arnette Elliott (who had been a performer since she sang for her stuffed animals) started collaborating with her Portsmouth, Virginia, neighborhood friend, Timothy Mosley. He would later become known as Timbaland. With his help, Elliott formed an R&B group called Sista, but record labels told Elliott that she would never have a career because of her weight. In an interview with the Guardian, she said, "They'd broken my heart. They said I could sing, I could write, but that I looked wrong. That was the lowest thing you could say. I didn't forget." 
But she didn't give up. Instead of moving forward with a solo career, Elliott and Timbaland moved to New York City, where the two made names for themselves as hip-hop producers, working with artists like Aaliyah, Ginuwine and Destiny's Child. Elliott's breakthrough vocal performance came in 1996 when she rapped on Gina Thompson's "The Things That You Do," produced by Sean "Puffy" Combs. 
Thanks to that song and a string of successful collaborations and guest appearances, Elliott released her first solo album, Supa Dupa Fly, which went platinum in 1997. She knew exactly what to do with her fame, too. In an industry that wanted only to control her, Elliott refused to be molded. Combs had hoped to sign Elliott to his Bad Boy record label, but she wanted full creative control and instead signed with Elektra Records under the condition that she had her own sub-label, The Goldmind Inc. That move made her the first black female to control her own record label. 
In 1999, Elliott released Da Real World and followed up with Miss E... So Addictive in 2001. The latter album shot Elliott into superstardom with the singles "Get Ur Freak On," which she performed at the Super Bowl, and "One Minute Man." In 2002, Under Construction came with the single "Work It," helping to land that album on the Billboard 200 for 35 weeks. One year later, Elliott released This Is Not a Test! followed by Cookbook. All told, Elliott has won four Grammys. And when the Grammys introduced a short-lived award for Best Female Rap Solo Performance, Elliott won twice — both of the two times it was awarded. 
And she's arguably the most important female MC of all time. No one has ever matched Elliott's influence or reach. In her prime, Elliott sold more than 7 million albums; by contrast, her contemporaries Lil' Kim and Eve sold 4 million each. That was back in 2006, though. For a while, it seemed like Elliott had dropped off the map. But last night's Super Bowl appearance showed promise for longtime fans who've been anxiously awaiting her forthcoming album, Block Party, which has been in the works since 2007. The performance also proved, once and for all, that Missy Elliott is the greatest female rapper we have. And nothing will keep her from her fans.