27 Years Later, Roald Dahl's Heartbreaking Letter on Vaccines Matters More Than Ever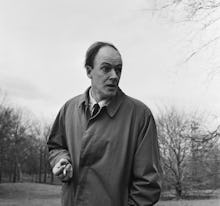 The U.S. is in the midst of a modest measles epidemic. Nearly 107 people in eight states have been diagnosed with the disease, all linked to an outbreak at Disneyland in California. As Mic's Sophie Kleeman writes, "Now Arizona health officials say that a family exposed to it on vacation could infect up to 1,000 residents."
Measles was eradicated in the U.S. in 2000, and most doctors and epidemiologists place the blame for the outbreak squarely on the anti-vaccination movement. Pediatric infectious disease specialist James Cherry told the New York Times that the outbreak was "100% connected" to the anti-vaccine movement. "It wouldn't have happened otherwise — it wouldn't have gone anywhere," he said. The newspaper reports that the new measles outbreak received defensive reactions from anti-vaxxers (those who refuse to vaccinate their children because of personal beliefs or fearing autism, thanks to a debunked myth).
Measles: A Dangerous Illness
Dahl continues:
The measles had turned into a terrible thing called measles encephalitis, and there was nothing the doctors could do to save her. That was 24 years ago in 1962, but even now, if a child with measles happens to develop the same deadly reaction from measles as Olivia did, there would still be nothing the doctors could do to help her.
Dahl was "destroyed" by Olivia's death, according to his first wife. He never spoke about her, but on the 20th anniversary of her death he dedicated his favorite children's book, The BFG, to her memory.
But don't vaccines cause autism? That's the prevailing myth keeping adults from vaccinating their children. Consider this anecdote from the New York Times this weekend:
Missy Foster, 43, said she had not vaccinated her daughter, Tully, who is now 18 months old, against measles because of concern that the M.M.R. vaccine — which stands for measles, mumps and rubella, or German measles — might be associated with autism.
NO, GODDAMMIT, NO. I'm just going to blockquote myself from the last time I debunked this ridiculous lie:
No. Time and again, research has demonstrated that the 1998 "groundbreaking" study that allegedly linked vaccines to autism was just bad science with no basis in reality. 
Vaccinating your kids isn't a "personal belief," it's your social responsibility. "If other people are vaccinated, they won't catch the disease — and won't spread it to young children who cannot get protection," Vox reports. This phenomenon — the epidemiological logic underpinning the social necessity of vaccines — is what the scientific community calls "community immunity" or "herd immunity." "If every American of age were vaccinated, measles wouldn't spread ... Vaccinated people essentially act as barriers to measles outbreaks, since the disease can't pass through them and infect other people," German Lopez reports at Vox.
If you can't bring yourself to listen to empirical research, listen to Roald Dahl and vaccinate your goddamn kids already.
Editor's Note: Feb. 13, 2015
A previous version of this article failed to attribute language from an earlier Mic story about vaccinations. The story has been updated to fully link and attribute that language.
Editor's Note: Feb. 25, 2015
An earlier version of this article failed to cite passages from Vox and a previous Mic article in accordance with Mic editorial standards. The article has been updated to properly attribute the language to Vox and Mic.