Watch the First Trailer for the TV Adaptation of J.K. Rowling's 'The Casual Vacancy'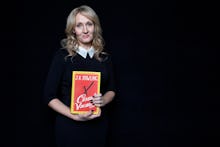 J.K. Rowling may be best known for her Harry Potter series, but that doesn't mean she doesn't have other things up her sleeve. 
BBC miniseries The Casual Vacancy — an adaptation of Rowling's much-praised first post-Harry Potter book — will soon make its TV debut, and we now have a trailer to entice us:
The story revolves around the local politics in the small English town of Pagford. The miniseries stars Keeley Hawes, Michael Gambon (whom Potter fans will recognize as the face of Albus Dumbledore), Julia McKenzie, Rory Kinnear, Monica Dolan and Rufus Jones. 
The show is written by Sarah Phelps and directed by Jonny Campbell. Rowling has said that she's confident Phelps can take over the writing reins. "Having met Sarah, and discussed the television adaptation of The Casual Vacancy, I was happy and confident to hand over the job of crafting my novel for the small screen," Rowling said in a statement. 
The trailer itself is full of dark intrigue, matching up nicely with the show's official description: 
Behind the pretty façade however, is a town at war: rich at war with poor, teenagers at war with their parents, wives at war with their husbands, teachers at war with their pupils. Pagford is not what it first seems.
The Casual Vacancy premieres Feb. 15 on BBC One.