In 3 Instagrams, One of the Most Influential Groups in Hip-Hop Just Announced Their Return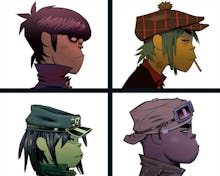 It's hard to imagine a cartoon band breaking up — after all, they never existed in the first place. But the legendary Gorillaz have been as good as gone, until this week.
On Friday, Jamie Hewlett (the graphic artist who, alongside Damon Albarn, helms the band) broke the group's long silence with three Instagram posts that show us what we've all been waiting to see: The Gorillaz are back, and they're about to resume their legacy of revolutionizing what hip-hop can be.
This was completely unexpected. The animated hip-hop group, conceived as a visual-musical collaboration between Albarn (of Blur fame) and illustrator Hewlett, has been relatively silent since ending their last tour in 2010. Rumors of their breakup were fueled by a 2012 interview in which Albarn claimed that he and his artistic director had a "juvenile" falling out, and new music was "unlikely."
But they appear to have patched it up, and their return means great things for music. Since the early 2000s, the band has been a brilliant vehicle for combining classic hip-hop with every genre imaginable and presenting it all through compelling cartoons.
The group's deeply collaborative albums helped introduce younger audiences to influential alternative hip-hop acts they'd never otherwise have come across in the mainstream. They offered huge platforms of visibility to the alternative stylings of Del the Funky Homosapien (the tongue-twisting rapper on "Clint Eastwood"), MF Doom (who appears on "November Has Come") and De La Soul (who rapped on the Gorillaz's hit single "Feel Good Inc." and essentially built alternative hip-hop back in 1989 with 3 Feet High and Rising).
The Gorillaz also introduced producer Danger Mouse to a much wider audience, giving him a platform to help create one of his greatest records to date, Demon Days, which again prominently featured MF Doom and De La Soul.
But the cartoons weren't just entertainment. Inadvertently, the Gorillaz hit on something few people know about: the importance of cartoons to hip-hop. MF Doom especially has built a large underground following rapping about comic books and nerd culture. The Gorillaz's heavy focus on animation and alternative, artistic narratives in hip-hop arguably helped inspired the mainstream revolution in cartoon and rap crossover. Most significantly, they paved the way for Cartoon Network's Adult Swim to establish its invaluable presence in hip-hop and become the most important artistic outlet for music on television today.
Since Adult Swim's founding in 2001, two years after the Gorillaz's debut, it's become one of the most valuable patrons to the alternative hip-hop community. They've helped launch the careers of Flying Lotus (who often raps under the cartoon persona Captain Murphy) and the kings of 2014, Run the Jewels. Both acts have featured a heavy amount of animation in their videos, carrying the Gorillaz visual legacy forward in a brilliant way. That was always part of the point for the Gorillaz — to create something of visual substance in an otherwise empty audiovisual culture.
"[I]f you watch MTV  for too long, it's a bit like hell there's nothing of substance there. So we got this idea for a cartoon band, something that would be a comment on that," Hewlett explained in 2005. "If you're going to pretend to be somebody you're not – which is the whole point of being a rock star – then why not just invent fake characters and have them do it all for you?"
h/t Pitchfork