Hallmark's Adorable Valentine's Day Ad Proves Homophobia Has Become Bad for Business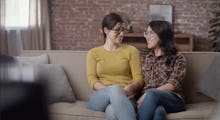 Hallmark has been selling Valentine's Day cards for about 100 years. But for the first time ever in, the company is featuring an adorable biracial lesbian couple in its campaign for the holiday. 
The company, as the Huffington Post noted, is one of countless brands — including Honey Maid, Starbucks, Tiffany & Co., Nikon, Marriott and Banana Republic — making their campaigns LGBT-inclusive. But, unlike luxury or upscale brands like Tiffany, Hallmark's touching campaign is directed at the masses; the company's traditional heritage and middle-class appeal reflect the wider sea change in approval of the LGBT community.
Further, the fact that companies like Hallmark are making products with the LGBT community in mind highlights the extent to which the community has merged into the mainstream and emerged as a valuable demographic.
Response has been positive so far: Eugenia and Corinna are just one of a handful of couples featured in the Hallmark's "Put Your Heart To Paper" campaign. On YouTube, their video garnered dozens of positive comments, including one by a Hallmark employee who expressed her gratitude that the company showed its support for the LGBT community. "This makes me so very happy and proud to be a Hallmark employee, who is also gay," Nicole Cawlfield wrote in the comments, "and who has been pushing our idea of expanded love identities forward for a long time. My heart is bursting, my eyes are spilling. Thank you for sharing your story with us, and your love with each other."
Hallmark's ad takes on another significance due to the company's complicated relationship with the LGBT community. It's true that Hallmark created "coming out" cards in 2007 and same-sex marriage cards the next year. But the iconic brand has also been plagued by anti-gay marketing, from the homophobic Father's Day card yanked from its stores after complaints in 2007 to its refusal to run the "Deck the Halls" lyric referring to "gay apparel" on a 2013 Christmas ornament.
The power of the "pink dollar": More than anything, this campaign signifies the increasing power of the LGBT community as consumers. LGBT shoppers compose a highly coveted market; according to the HRC, the community has the total buying power at $830 billion annually, up from $790 million in 2012. The community also notably exhibits higher brand loyalty to those companies that explicitly create and promote products to them. 
Pessimistically, this could all be taken merely as smart business play with companies wanting gay dollars rather than really caring about the community. On the other hand, perhaps this is what LGBT acceptance amounts to in a capitalist society. 
At the very least, gays will be able to "send the very best" this Valentine's season in a way that for once truly reflects who they are.