11 Musicians Who Are Poised to Become the New Bob Dylan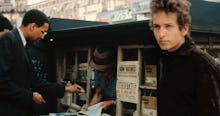 Bob Dylan released his 36th studio album on Tuesday, a collection of jazz standards called Shadows In the Night. While most artists (ahem, U2) are trying to appeal to a younger audience, Dylan made the exact opposite call on this one. It's all old songs, and he gave his one and only promotional interview to AARP The Magazine (otherwise known as the mouthpiece for the American Association for Retired Persons). 
Dylan has always been a legendary songwriter, but if anything, this album proves that he's no longer the wily, eccentric Dylan of the 60's. That doesn't mean that brilliant songwriting is done, though. Thanks in part to his musical legacy, these 11 songwriters are primed to be the next Bob Dylan.
1. Jason Isbell
Singer-songwriter Jason Isbell left his long-time band Drive-By Truckers in 2007 to pursue a solo career. He's a masterful storyteller; his song "Elephant" tells of a close friend dying from cancer in heartrending detail, true to his narrative form. Each of his songs rings with authenticity and a quiet poetic touch — a touch learned, in part, from Bob Dylan. Isbell even has lyrics from Dylan's "Boots of Spanish Leather" tattooed on his arm. Southeastern, Isbell's fourth solo album, was the product of his fight for sobriety. In a 2013 profile, the New York Times said the musician's "redemption on Southeastern is one of the best stories American music has to tell in 2013." His songs are the best stories any songwriter has penned in a long time. 
Standout lyric: "So girl leave your boots by the bed / We ain't leavin' this room / Til someone needs medical help or the magnolias bloom" 
2. Laura Marling
Laura Marling is the master of the anti-love folk song. On "Master Hunter," the British artist sings, "You want a woman who'll call your name? It ain't me, babe. No, no, no, it ain't me, babe." Her four studio albums are critically acclaimed, but in an interview with the Guardian, she said, "My songs are not pretty. They're what I call optimistic realism." In true folk form, she was once thrown out of her own show for being underage, so she busked on the street instead. Her latest album, Once I Was an Eagle, peaked at No. 4 on the Billboard Folk Albums chart. 
Standout lyric: "Bitterness is thick like blood and cold as a wind sea breeze / If you must drink of me, take of me what you please / I am loathe to say it's the devil's taste / I've been with the devil in the devil's resting place"
3. Jake Bugg
This star from the U.K. has been making a big splash lately; at just 20 years old, he's already released two studio albums. Bugg grew up in the projects of Nottingham and now holds the weight of the world on his shoulders: "Somebody asked me if I was the voice of a generation recently," Bugg told the Independent last year. "I was just, like ... what? Me? Why?" In 2012, the Telegraph dubbed Bugg "an East Midlands Bob Dylan," a comparison that has followed the talented singer-songwriter nearly everywhere he goes. It's true; the likeness to early Dylan is eerie.
Standout lyric: "I drink to remember, I smoke to forget / Some things to be proud of some stuff to regret / Run down some dark alleys in my own head / Something is changing, changing, changing"
4. Lisa Hannigan 
Before Irish songwriter Lisa Hannigan became known as the U.K.'s "token folkie," she collaborated with Damien Rice for six years. But when she set out on her own and recorded her first album, See Sew, she earned herself a Mercury Music Prize nomination. "My earliest memory is wrapped up in a musical memory," Hannigan said in an interview with the Guardian. "I remember sitting in a car seat, at an angle, looking out of the window, singing the backing vocals to Joni Mitchell's 'Conversation.'" Her voice belongs to someone much older and wiser, but it fits perfectly with her timeless melodies. 
Standout lyric: "I tie the knots to remember in my heart / So I choke and I sputter to a stop / I am a borrower and lender of the lot / I walk away asleep / And chalk an outline round the scene" 
5. Cold Specks
Al Spx, stage name Cold Specks, is the Edgar Allen Poe of folk musicians. The 26-year-old Canadian singer-songwriter has perfected gothic-folk with incredibly dark lyrics and haunting, unshakeable melodies. But she's still got a sense of humor, albeit a morbid one: "My first show was at this place called The Art Bar in the Gladstone Hotel," Specks told Interview. "At the time, I was performing [as] 'Hotel Ghost.' I was playing with a broken Casio keyboard that I was given by my mother. I didn't know how to play it." Specks has released two studio albums, and in 2013 won Female Artist of the Year from the SiriusXM Indies Awards. 
Standout lyric: "Oh I, whole night, I heard you sing / Only dreamers, dead times, and dirty kings / Oh I, whole night, I heard you sing / O death, where is thy sting?"
6. Phosphorescent
Alabama-born Matthew Houck, aka Phosphorescent, records most of his music in total isolation, a strategy that makes his airy folk music sound particularly meditative. "It's not so much a 'studio' as it is a junky practice space," the singer told Pitchfork. "No professionals would ever walk in there and be like, 'Whoa.'" Lyrically, Houck meanders into poetic allegory; melodically, he creates a dreamlike warmth. His latest album, Muchacho, was met with rave reviews from critics in almost every corner, peaking at No. 59 on the Billboard 200.
Standout lyric: "You see, the moon is bright in that treetop night / I see the shadows that we cast in the cold, clean light / My feet are gold. My heart is white / And we race out on the desert plains all night"
7. Destroyer 
Destroyer, aka Dan Bejar, may be less famous than his band The New Pornographers (also host to Neko Case, A.C. Newman and Kurt Dahle), but he's easily as talented. His vocals wander like Dylan's, but Bejar's fluttering folk is undeniably his own. "I like putting common expressions next to uncommon expressions," the Canadian songwriter said in an interview with Pitchfork. "Moments of unexpected sweetness happen when romance enters, which always happens in songs — if just for a split second."
Standout lyric: "The wind and the rain / To your detriment you try to explain / A government swallowed up in the squall / I can't walk away, at all / In Chinatown"
8. Jessica Pratt
California-based musician Jessica Pratt is a member of the freak folk movement, a neo-hippie genre where the lyrics often involve natural imagery and the instruments are almost always acoustic. Off-putting genre label aside, Pratt's voice is spry and pretty, and comparisons to Joni Mitchell are practically unavoidable. "I like to be in the clouds to some degree," she told Flavorwire. "Dreaminess is pretty important to me. If you maintain some level of that abstraction, the words are not as distracting as they could be." Plus, Pratt finger-picks her guitar a hell of a lot like Woody Guthrie. 
Standout lyric: "You and your glass well that does rain / Oh when time's a frozen thing / It encloses you in its crystaling / Looks so lovely that you'll have to decide / If you could play it in reverse then you'd find / That you'd better reconsider all the love you took in / And then cast it aside"
9. Brandi Carlile
Brandi Carlile's voice is tough as nails, just like she is. "People that could sing loud always fascinated me," Carlile told NPR. "So I started trying to mimic those techniques at a really young age ... singing 'Bohemian Rhapsody' in my closet and stuff like that." She's released five self-written studio albums, with another due in March. Her latest record, Bear Creek, is a seamless collection of country-folk ballads; released in 2012, the album reached No. 10 on the Billboard 200. On previous recordings, Carlile has worked with Rick Rubin, but her roots are undeniably folk.
Standout lyric: "I never did learn how to follow the rules / I never was good at sleeping while the moon was full / I just lie and burn / Wreck my mind while the planet turns"
10. Sufjan Stevens
Detroit native Sufjan Stevens has been making folk music since 1999, but he's not stopping anytime soon: On March 31, he'll release a new album, Carrie & Lowell. Stevens' instrument of choice is the banjo — though he can play many others — and his ethereal voice sways gently on every song he writes. He's also a wonderful storyteller. "When we were kids that was how we interacted, by telling stories and creating anecdotes," Stevens told Pitchfork. "We were all vying for attention, from each other and from our parents, and whoever could perform best would get the most attention." Years later, the indie-folk star is probably getting more attention than he wants. 
Standout lyrics: "In the morning, through the window shade / When the light pressed up against your shoulderblade / I could see what you were reading"
11. Father John Misty 
Josh Tillman was best known as the drummer for Fleet Foxes before his solo debut under the moniker Father John Misty in 2012. The singer and multi-instrumentalist is a trickster and, like another certain famous folk singer, not particularly kind to the press. "I have this self-destructive streak, it's just the way I'm wired," he told Pitchfork. "I'll be walking down the street and see a guy sitting behind a dumpster drinking and I'll be like, 'That looks great.'" Tillman's lyrics tend towards mysticism and cynicism (see: heavy drug use), but his melodies are sprightly — whether that's intentional or ironic is still up for debate. His new album, I Love You, Honeybear, will be out February 10th.
Standout lyric: "Emma eats bread and butter / Like a queen would have ostrich and cobra wine / We'll have satanic Christmas Eve / And play piano in the chateau lobby"