Something Funny Happened to Pornhub Traffic After the Super Bowl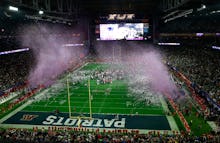 Pornhub is here with its annual Super Bowl statistics, and this year's results are revealing: Winners celebrate with porn.
The news: Traffic on the adult video site Pornhub saw a high spike in Massachusetts, and Boston specifically, at the end of Sunday night's Super Bowl, where the New England Patriots beat the Seattle Seahawks with an exciting fourth-quarter push. 
Site traffic in Seattle and Washington as a whole, on the other hand, didn't rebound quite so much. 
Also, despite the tight fourth quarter, it looks like Washington fans starting tuning out (or perhaps started multitasking) earlier in the night, sometime between 9 and 10, when the Seahawks were actually winning 24-14.
But the Patriots had the last laugh, and it looked like they celebrated online. Boston traffic increased as much as 33% in the hours after the game ended, Pornhub writes on its Insights blog, while Seattle's traffic went up modestly but then steadily decreased throughout the night. 
The same finding emerged from Google search data in previous years, TIME reports. In 2013, after the Baltimore Ravens beat the San Francisco 49ers, Google searches for porn-related terms increased by 3% in Maryland, while California searches decreased by 5%. 
At least people were watching this year: Unlike last year, the 2015 Pornhub data doesn't show a clear moment when one city's fans switched off the game in anger and instead went online. But last year's Super Bowl was essentially a blowout, with the Seahawks outpacing the Denver Broncos 22-0 by halftime. 
Sure enough, the Pornhub data indicates exactly when Broncos fans switched over from football to porn:
This year, with a much closer game, the switch wasn't nearly as drastic. But the winners did still show a greater rush to Pornhub.com than the losers.
It's not all too surprising: Watching porn floods our brains with dopamine, "giving us the thrill that goes with accomplishment." And in fact, watching sports actually gives our brains the same kind of rush.
"Evidence suggests that dopamine cells respond to a reward primarily when it occurs unpredictably, which is typical with sporting events," Sandra Bond Chapman, chief director of the Center for BrainHealth at the University of Texas, told CNN. "And because our brains want to repeat feelings of pleasure and euphoria, one win may produce a greater desire for the next."
It could also arouse a greater desire for a similar feeling via a different activity. So it's no surprise that New England fans moved on from one thrilling dopamine rush to another. We just hope everyone's Super Bowl party guests vacated the vicinity first.