President Obama Just Took a Stand for Legal Weed in the Nation's Capital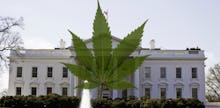 By inserting one simple word into his 2016 federal budget proposal, President Barack Obama has revived the long fight to end marijuana prohibition in Washington, D.C.
On Election Day, voters in the nation's capital overwhelmingly approved a measure to legalize the possession and use of marijuana inside its borders. But Congress undermined the results of the referendum just a month later, writing language into the 2015 federal spending bill that would block the local government from enacting the new law.
President Obama's $4 trillion budget request for 2016 was released early Monday morning. It took a few hours, but by early afternoon Tom Angell from the Marijuana Majority had eyed the clever new wording. Obama's budget proposal bans only "federal" funds from being used to enact a law to legalize marijuana. By not qualifying "funds," the Congressional language prohibited all money, even from the district's own tax base.
Like the congressional bill from December, the new budget will be subject to revisions from Republican lawmakers in the House and Senate. As the Washington Post reports, it is likely that Rep. Andy Harris, a Maryland Republican, will try to edit out the White House's new language. 
But this time, the debate will occur over the course of months and not, like in December 2014, with a government shutdown looming. With more important legislation in the works, Republicans might not want to expend precious political capital on an issue with such overwhelming support in Washington, D.C., where a number of lawsuits are pending and Mayor Muriel Bowser, a Democrat, has already vowed to go forward in spite of Congress' efforts.
Initiative 71, which passed by a 69.4% to 30.4% margin in November, would make it legal for anyone 21 and older to possess up to two ounces of marijuana and grow no more than six plants. Sales are forbidden, but growers would be allowed to share their bud.
The White House has sent mixed messages to the millions of Americans fighting to end marijuana prohibition. It has directed the Department of Justice not to enforce federal bans in states like Colorado and Washington that have legalized weed through popular votes. But federal prosecutors are still trying to get tough sentences for people allegedly caught growing marijuana in defiance of state law. Just last week, new attorney general nominee Loretta Lynch told senators she did "not support the legalization of marijuana" and believed it to be more dangerous than alcohol.
Common sense and the public disagree with her on the latter point. But for today at least, the White House is doing its best to keep Republicans in Congress from blocking the will of the people.