7 Reasons Why Missy Elliott Is the First Feminist of Hip-Hop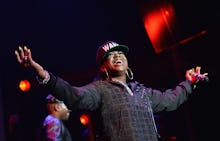 In less than four minutes at Sunday's Super Bowl, Missy Elliott reminded us of her important place in hip-hop history.
But she also has a fundamental place in feminism. 
Elliott has been in the game for over 20 years, first hitting the scene in the group Fayze (later renamed Sista) and making her first big wave in the industry when she wrote and rapped in Raven-Symoné's 1993 single "That's What Little Girls Are Made Of." But from the very beginning, Elliott's career has exemplified her feminist ethics, championing strong women and the fierce bonds of sisterhood. 
Her lyrical talents, loyalty and kindness were reflected in her own success, which includes five Grammys, six platinum albums, 30 million records sold and 1,000% album sales gain since her Super Bowl performance. It's also evident in the success of those women she shepherded through the industry, from Aaliyah to Ciara. She produced hits for them all, and collaborated with them on her albums. 
Her belief in the power of sisterhood begins with teaching a woman to love herself first. Elliott's lyrics promote women's agency, self-possession and self-love. She is a survivor of both domestic abuse and sexual abuse, and she has spoken eloquently about the effect those experiences have had on her life. Elliott, especially as a curvy, dark-skinned black woman, is the embodiment of female empowerment, sex positivity and body positivity.
She's a champion of body positivity for all women.
Elliott has rapped at length about her curves, her butt, and her "chocha." The song "I'm (Really) Hot" encapsulates the love she has for her body, just the way it is — she doesn't need to conform to unhealthy standards promoted throughout society.
She also supports female friendships and the power of women working together.
Ciara's "1, 2 Step" is just one example of Missy's collaborative skills; she walks in step with other women, and in that way emerges as a leader for women. 
 Pre-Beyoncé, she already knew that women run the world.
"This chick is a sick individual" — Elliott's "We Run This" is the anthem for self and female empowerment prior to Beyoncé's "Run The World (Girls)." It also harkens back to the sentiment of black unity and empowerment found throughout her earlier album, Under Construction, particularly in the songs "Back n the Day" and "Funky Fresh Dressed." 
She wanted you to "show me my ring" but did not need a man to "pay my bills."
The lady won't be scorned. "All in My Grill" represents the emboldened women who has given her lover one too many chances to prove his or her worth. "See, tricks are for kids, / and boo I'm too old." This song is all about moving on from love and the realization that women don't need external love to be "the best thing in history." 
She reclaimed the slur "bitch," along with female power.
Forget "bossy" — it was all about being a "bitch" in the 1990s. Female songwriters like Meredith Brooks and, later, Alanis Morissette recuperated the word beginning in 1997, but Elliott captured the no nonsense emotion, depicted by the stark black-and-white contrast in the video, and strength of the word in her 1999 single.
She proved women can and should be free to own their sexuality.
It's no surprise that a major theme of "Work It" is sex work: "Girl, girl, get that cash / If it's 9 to 5 or shakin' your ass / Ain't no shame, ladies do your thing /Just make sure you ahead of the game." But the song also conveys similar themes found throughout Elliott's songs, including body positivity and sex positivity. 
That means she also doesn't "need none of your boys" because she's "gotta bag full of toys."
Sticking to the sex-positive theme, Elliott has no qualms in discussing sex toys and their part in female pleasure in the song "Toyz." Again, Elliott's feminism is depicted in the ideas of female independence found throughout her oeuvre. 
Fierce, strong, powerful and empowering: Elliott's reemergence after 10 years in privacy is sorely needed in this time of feminist revival.
Sister, we're so glad to have you back.