Harper Lee to Publish "Sequel" to 'To Kill a Mockingbird'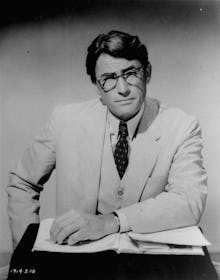 Harper Lee, the reclusive author of the American classic To Kill a Mockingbird, is publishing her first novel in 55 years.
Publisher Harper announced Tuesday that Go Set a Watchman, a novel "the Pulitzer Prize-winning author completed in the 1950s and put aside," will be released July 14, the Associated Press reports.
"Rediscovered last fall, Go Set a Watchman is essentially a sequel to To Kill a Mockingbird, although it was finished earlier," the Associated Press reports. "The 304-page book will be Lee's second, and her first new work in more than 50 years."
"The existence of Go Set a Watchman was unknown until recently, and its discovery is an extraordinary gift," Harper publisher Jonathan Burnham said in a statement.
Published in 1960, To Kill a Mockingbird is among the most beloved novels in American literature, with worldwide sales topping 40 million copies. Gregory Peck starred in the 1962 film adaptation, for which he won an Oscar.
This is a developing story. Please check back for more updates.