Rihanna, Kanye West and Paul McCartney Just Released a Powerfully Stripped-Down Video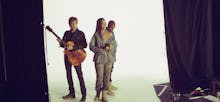 Rihanna, Kanye and Sir Paul McCartney are definitely one of the most unlikely trios the world has ever seen. But equally surprising is how great they are together. The three pop stars may be from wholly different styles and eras of music, but when they come together something magical happens. The bold, stark and simple video for their stripped-down collaboration on "FourFiveSeconds" proves it.
According to Rihanna, "Kanye came up with the idea of doing just this street-denim all-American type look." That definitely comes across. It's quintessential 2015 pop Americana. "That's the look. That's the fashion tip," Rihanna says in a behind-the-scenes interview from the set. "Denim never goes out of style: It's classic, it's iconic, just like the fucking Beatles."
"Four Five Seconds" is set to appear on both Kanye and Rihanna's new albums. The group will hype up both by performing as a trio at this year's Grammys. Kanye may also have more McCartney collaborations coming through. He's already released the video for his equally simple and catchy "Only One" last Thursday. Sources say he may have up to nine songs set to go. And stay tuned as Rihanna and Kanye continue to crate-dig through '60s and '70s pop.
h/t Pitchfork