Incredible Dashcam Footage Shows TransAsia Flight Crashing Over Highway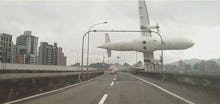 A commercial plane belonging to Taiwanese carrier TransAsia Airways and carrying 58 people crash-landed in a river in Taipei after clipping a bridge shortly after takeoff, the Associated Press reports. 
Flight GE 235 from Taipei to Kinmen crashed at about 10:45 a.m. local time, Aviation Safety Council spokesman Thomas Wang told Bloomberg. Officials estimate 40 people were injured in the crash. 
Local media reports indicated that "dozens" of people on the plane were rescued and sent to a nearby hospital while another 10 remain trapped in the aircraft," per the BBC.
The taxi driver who was hit and survived has been called the "luckiest man alive," according to the Mirror. He reportedly told a doctor at the hospital that he recalls feeling "very scared."
According to the BBC, the ATR-72 twin-engine turboprop had just taken off from Taipei Songshan Airport and was headed to Kinmen Airport on the outskirts of Taiwan. Shortly after takeoff, one of the plane's pilots sent a frantic message — "Mayday Mayday engine flameout" — indicating engine failure caused when the fuel supply to the engine is interrupted or there is faulty combustion, according to Reuters.
Taiwanese media posted pictures of the plane in the water about 100 meters (yards) from the shore of Keelung River.
This is the second crash for TransAsia in under a year, Bloomberg notes: A turboprop plane crashed over Taiwan's outlying Penghu islands in July of last year, killing 48 people, after the pilots "couldn't find the runway," according to the accident report. 
TransAsia director Peter Chen told a news conference that contact with the plane was lost four minutes after takeoff. He said weather conditions were suitable for flying and the cause of the accident was unknown.
"Actually this aircraft in the accident was the newest model. It hadn't been used for even a year," he said.