Watch Neil Young and Jimmy Fallon's "Neil Young" Rock "Old Man" on 'The Tonight Show'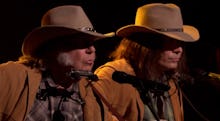 Jimmy Fallon is a comedian known for his impressions, especially of legendary musicians. But on Tuesday night's The Tonight Show, Fallon stepped it up a notch by pitting one of his impressions against the real thing.
Fallon sat on stage as Neil Young, an impression he's done numerous times before, but this time the real Young joined the fun for a Neil Young and "Neil Young" duet of "Old Man" you're not likely to see anywhere else.
Young joined Fallon during the Tonight's Show's one-week run in Los Angeles — the show's previous home for over 40 years — which was introduced Monday night by the equally hilarious Fresh Prince of Bel-Air parody.
At this point, almost anything Fallon touches turns into viral gold, and though these impressions have almost come to be expected, watching the real Young croon along with Fallon's "Young" is hilarious and endearing and reminds people that the generally elusive isn't above having a bit of fun. 
h/t Uproxx