Watch the Dark First Trailer for Netflix's 'Daredevil' Right Now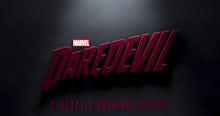 "I'm not asking forgiveness for what I've done, Father. I'm asking forgiveness for what I'm about to do."
In case you were wondering if the new Netflix series Marvel's Daredevil will be dark and gritty, that quote should give you some answers.
Lawyer by day, blind crime fighter at night, Matt Murdock, aka Daredevil, is back April 10 on your streaming device. Here's a first look at the trailer:
Starring Charlie Cox, Deborah Ann Woll, Elden Henson, Rosario Dawson and Vincent D'Onofrio, the dramatic superhero series tells the origin of the crime fighter whose senses are heightened from being blinded as a young boy. Unlike 2003's super-clean Daredevil starring Ben Affleck in a shiny red suit, the revamp features a realistic-looking Daredevil (at least, as much as is possible in a superhero franchise) fighting crime on the mean streets of New York City's Hell's Kitchen neighborhood. 
In typical Netflix fashion, all episodes of the first season will premiere at the same time, and while most casual viewers might have a hard time binge-watching the season, Marvel Entertainment's chief creative officer, Joe Quesada, told ScreenRant the season could be thought of "as a very large movie." So get ready for the longest superhero movie you've ever seen.