Watch the First Teaser Trailer for 'Magic Mike XXL' Right Now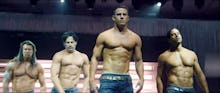 After you finished watching Magic Mike in 2012, did you sit there and wonder: Can this movie get any larger? Or even extra larger?
Channing Tatum and the gang are back with a Magic Mike sequel that's not larger or extra larger, it's extra extra larger. Take a look at the first teaser trailer for Magic Mike XXL:
Set to premiere July 1, Magic Mike XXL will see the return of most of the original cast members, including Tatum, Matt Bomer and Joe Manganiello, as well as the additions of Amber Heard, Elizabeth Banks, Jada Pinkett Smith and Donald Glover. Matthew McConaughey, who played Mike's boss Dallas, does not appear to be reprising his role. 
In the sequel, the male strippers take their show from Tampa, Florida, to Myrtle Beach for a stripping convention. 
But in case this trailer wasn't enough to get you excited, take a look at the recently released and extremely not-subtle movie poster Tatum tweeted Tuesday:
Not subtle at all.