Argentina's President Just Tweeted the Most Jaw-Dropping Racist Joke About Asian People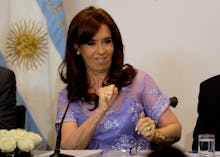 Being a respectful world leader: You're doing it wrong. 
While on an official visit to meet with Chinese President Xi Jinping, Argentine President Cristina Fernández de Kirchner sent out a tweet mimicking the Chinese accent. 
In the tweet — which, as of press time, is still up — she replaced the "r"s with "l"s in the words "arroz" and "petróleo": 
The offensive and deliberate misspelling is akin to an English speaker replacing the "l"s in "hello" with "r"s. (Roughly translated, her tweet reads, "More than 1,000 attendees ... Did they only come for the lice and petloleum?")
She then tweeted an "apology" of sorts:
According to Business Insider, the tweet above translates to, "Sorry. You know what? It's just that the ridiculousness and absurdity is so high, that it can only be understood through humor. If not, it's very, very toxic."
Besides being racist, it's also strategically idiotic. As Bloomberg points out, Argentina is banking on loans from China to prop up its currency, which fell 23% against the dollar last year when the government defaulted on its debt for the second time in 13 years.
The country's pile of outstanding debt has made it difficult to retain financing in international markets, which is why the loans from China are so vital. Argentina has already received about $3 billion, but as Business Insider notes, they'll likely need more — which makes Fernández de Kirchner's insulting tweet that much more head-scratching.
Then again, the country probably has other things on its mind right now. 
h/t Business Insider