Chance the Rapper Is About to Become the Biggest Rapper of 2015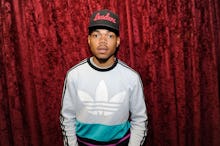 You might not have heard of Chance the Rapper, but he's about to be the most-talked about man in hip-hop.
The hype has been building for a while now. Back in November 2013, Complex named him one of rap's rising stars and acclaimed hip-hop magazine XXL included him in their 2014 prestigious Freshman Class, but Chance adamantly refused to sign a major label deal to capitalize on his buzz. Instead, he became one of the most fiercely independent artists in the game.
The decision for creative control paid off; Chance is gearing up to release a series of mind-blowing projects that will blur the lines between soul, jazz and rap. Chance is going to absolutely dominate 2015. 
Unstoppable potential: His yet-to-be-named debut studio album is already reaching mythological status. Billboard reports that he's collaborated with some of hip-hop's most reclusive names, Mystery men Frank Ocean and Andre 3000 will both supposedly appear, along with mainstream heavyweights J. Cole, Rick Rubin, Migos and possibly Pharrell. Presumably, it will pick up where his breakout mixtape Acid Raps left off, pushing songs that careen wildly between stoner comedy and deep reflections on life and love. He won't stop there, though; Chance also hinted at an upcoming collaborative EP with fellow up-and-comer Childish Gambino.
But he isn't in a rush to release anything. He has no label obligations and no deadlines. "I can do whatever I want," he told Billboard last October. "And I've got to really flex that unlimited capability of an independent artist. I can do whatever videos I want, I can play whatever shows I want, I can release when I want, talk how I want, freely, about any subject."
This freedom has allowed him to pursue his off-the-beaten path projects. He's working on a series of free mixtapes that will emphasize his live band, The Social Experiment. The first of these, Surf, which is due out "soon," will include a lot of Chance but will have his band's trumpeter, Donnie Trumpet, taking the lead songwriting role.
Hitting the big-time: In a profile, Fader points out how exceedingly rare it is for artists with as much momentum as Chance to put aside their shot at being a "more than reasonably famous rapper in favor of an uncentered, cross-genre collaboration." But his fascinatingly intricate sound has created its own demand. At the end of last year, Pitchfork named Surf one of the most highly anticipated albums of the year.
"A song should have a different meaning for at least the first three times you play it," Chance told Fader, sharing the philosophy behind Surf. "The idea is to make a singular, four-minute-and-30-second song that feels like a year's worth of music." One of the album's songs reportedly includes 610 individual tracks, an unheard level of complexity for hip-hop. Each song will also have around "50 people on it" according to Chance. One of first releases from the project, a cover of the theme song from the children's show Arthur, included confirmed contributions from rapper Wyclef Jean, British songwriter Jessie Ware, Elle Varner and indie act Francis and the Lights. Every Chance song is like its own musical universe.
Redefining rap: Surf's intricacies will be extremely different from the usual rap game, which consists of simplistic looping beats and straightforward verse-hook-verse structures. Surf will hopefully help put some renewed emphasis on musicality in hip-hop, which has long been overlooked. It's a widespread stereotype that live hip-hop is boring and amusical. But Chance is dedicated to reforming that perception by bringing the excitement back to live hip-hop in a big way.
In fact, his shows are about as inventive as his music. They showcase the band's masterful gospel, soul and rap blend along with unparalleled levels of theatricality – stage blocking, choreography, video and perhaps soon puppets. "It's something different. It's something new," he told Billboard, "It's a culmination of going to all these dope concerts and seeing cool Broadway plays. A lot of influence has come from the Lion King musical. ... We've been trying to take in all these cool, different outside cultural experiences and make that into a free listenable project. That's the new thing."
Irresistible: This Chance revolution has even got the industry he turned his back on excited. "They're almost like, 'Keep going. You're in uncharted territory, and you're helping to shed light on what [the future of the business] will look like, and we're all curious,'" he told Fader. Everybody's eyes will be on Chance the Rapper this year. His unstoppable experimentation has made him one of the most dynamic and inspiring names in hip-hop. It may sound like luck — it's anything but.