New Dating Survey Reveals People Who Use Emojis Have More Sex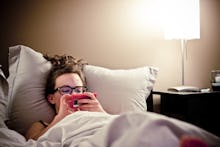 Yes, people who have fun with emojis are also having fun in the bedroom, apparently.
The finding comes from Match.com's big annual Singles in America survey, which examines the dating lives of 5,675 American singles 18 and over. How all those singles communicate is more complicated and intriguing than ever, and the survey found there are better and worse (or sexier and less sexy, as the case may be) ways for men and women to chat. 
Emojis, it turns out, are a turn-on across the board. Among emoji users, 54% had sex in 2014, compared with only 31% of non-emoji users. 
Additionally, 52% of emoji fans went on a first date in 2014, compared with only 27% of emojiphobes. The former group is also more than twice as likely to want to get married as the latter group.
What makes emojis so good for sparking that sexual connection? "It's hard to express your feelings in a text message, or even in an email," Dr. Helen Fisher, a biological anthropologist and Match's chief scientific adviser, told Mic. "Emojis [allow] us to return that feeling. They're enabling us to express our feelings, which is our natural predisposition." 
But men and women don't like the same exact texts. Both men and women are drawn to emoji, but they favor different ones. Single men are more likely to use the kiss face and heart eyes, while women are more likely to use smiley faces and lips. (Surprisingly, the eggplant was nowhere to be found.)
But more important than emoji is another kind of texting: sexting, the act of sending explicit messages, whether in photo or text form.
While 48% of single men and 40% of single women have sent explicit messages, and 35% of both genders have sent a naughty photo, that doesn't necessarily mean it was desired.
In fact, it's a pretty even split along gender lines: Many single men would like to see sexts from women, but many women don't necessarily feel the same way:
In other words, while singletons seem to love texting and using emojis, it's important to know how the person on the other end of the phone feels about it. To be safe, it's probably in your best interest to establish the boundaries for sexting before sending someone a photo of your, uh, "eggplant emoji."
Of course, all of this said, the Single in America survey isn't necessarily indicative of definitive trends across the country. Given that the results skew toward the heteronormative, and the fact that plenty of women like sexting just fine, there's plenty of room for different tastes.
Texting tastes aside, Fisher said, dating communication has changed, but the impulses behind it haven't. When it comes down to it, love is still the same game. 
"People are always wanting to say to me, 'Well, it's changing love.' That's ridiculous," she told Mic. When you meet someone in person — whether you met on Tinder or through a friend — you revert to the same habits. "You get into the bar or restaurant, you sit down and you flirt the way we did 100,000 years ago," Fisher said. "Same smile, same laugh, same tilting of the head." 
"The bottom line is, you still end up going out with the person," she added. "You end up holding their hand, kissing them in real time. You're not kissing a computer screen, that is for sure. It's just a new way to court."
Of course, there's nothing wrong with upping your odds with a smiley emoji. But please: Save the dick pic for another time.
h/t Time