The Police Are Killing One Group at a Staggering Rate, and Nobody Is Talking About It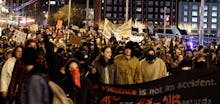 The end of 2014 was a bloody time for Native Americans. 
Even as protesters rallied against the police killings of unarmed black people like Michael Brown and Eric Garner in December, Rapid City police fired five bullets into Allen Locke, a 30-year-old Lakota man living in South Dakota.
In a tragic bit of irony, it was later revealed that Locke had been at a demonstration against police killings of indigenous people just one day earlier. Yet while devastating for his family and community, Locke's death illustrates a much bigger problem: From 1999 to 2013, Native Americans were killed by law enforcement at nearly identical rates as black Americans, tying them for the most at-risk populations in this respect.
The difference is that almost no one is talking about them.
There are 5.1 million American Indians and Alaska Natives in the U.S. as of 2011, significantly fewer than the country's 45 million black Americans (as of 2013). But like black Americans, indigenous people are killed by law enforcement officers at rates that far outstrip their share of the population.
While #BlackLivesMatter evolved into a national rallying cry for racial justice over the summer, a largely overlooked #NativeLivesMatter movement has been quietly galvanizing activists as well. Few mainstream outlets report on it, but the indigenous blogosphere and Twitterverse abound with horror stories, not the least of which is that six Native men and women were killed by police in November and December alone.
"We protest, we take to social media, we get as many stories and Native American voices as we can into news media," Simon Moya-Smith, a journalist and editor with Indian Country Today Media Network, told Mic in an email. "[But still] we're not entirely on [the mainstream media's] radar – maybe for Indian mascots, but for police brutality? Barely, if at all."
In some of these cases, including Allen Locke's, the victims were allegedly armed when killed. But this designation doesn't always tell the whole story. In cases like that of John T. Williams in 2010, for example, the knife the victim held that prompted Seattle police to take his life was a carving instrument, folded shut at the time of his shooting.
Williams' death set off a string of protests in early 2011. Although the officer who shot the 50-year-old resigned eventually, he was never charged with a criminal offense. It's a sad but familiar story for anyone who watched grand juries fail to indict Officers Darren Wilson and Daniel Pantaleo for killing Brown and Garner, respectively.
Some of the factors that affect these altercations result from a long history of American legal meddling into Natives' affairs, including disproportionate rates of poverty, substance abuse, suicide and lowered access to education, employment and health care prospects. And officials' inability to properly address these disparities has resulted in the continued criminalization of indigenous people, exacerbated by the combined forces of systemic substance abuse, mental health issues and unemployment.
Take the following incidents as examples: Mah-hi-vist Goodblanket, 18, was shot seven times in Custer County, Oklahoma, in 2013. And 34-year-old Benjamin Whiteshield was shot through the mouth and killed in Clinton, Oklahoma, in 2012. Both were experiencing episodes of mental illness when police killed them. 
Meanwhile, Christina Tahhahwah was arrested during a bipolar episode on Nov. 13 and died after she went into cardiac arrest in a Lawton, Oklahoma, police holding cell. The details surrounding Tahhahwah's death are dubious, to say the least. Native News Online reports she'd been handcuffed to her cell door "for unknown reasons," and that the 37-year-old's parents weren't notified of her transfer to the hospital — where she was pronounced dead — until many hours after the fact. Meanwhile, her fellow inmates claim she'd been "tased repeatedly" for refusing to stop singing Comanche hymns (Lawton Police have since denied the allegations).
Taken as a whole, these cases convey an ugly pattern of official neglect amid an ongoing legacy of targeted oppression. Moya-Smith describes the police killings as the lasting intent of early European colonizers, for whom Natives were "the original target" and seen as little more than a "nuisance" impeding white "progress."
"This country has yet to recognize our humanity," he says. "[Such killings are] a centuries-old practice in the U.S., so of course Native Americans have a knee-jerk reaction whenever the white authorities come knocking. ... The trauma remains."
Then there's the case of Corey Kanosh, an unarmed 35-year-old Paiute man who ran off in fear rather than face sheriff's deputies who were chasing him and friend Dana Harnes in Kanosh's mother's car. Harnes was driving and had allegedly been drinking. But Kanosh was the one who lost his life, shot to death as he fled through the foothills near the Kanosh Paiute Indian Reservation in Millard County, Utah. 
His family is currently raising funds to investigate his death.
The situation is dire, but as Moya-Smith explains, the moment is ripe for a change. Regarding the recent protests against anti-black police violence that have taken the world by storm, he claims: "[It's] imperative that both causes [#BlackLivesMatter and #NativeLivesMatter] unite, because this is human matter." He says a major challenge arises when "the media recognizes #BlackLivesMatter, but not #NativeLivesMatter," a fact he attributes to the persistence of a limiting "binary of black and white in this country" that erases other experiences.
On the ground, however, the aims of the two causes are inevitably intertwined. "[We] work diligently every day to inform America and the world at large that we didn't die off," he says, "that authorities keep killing Indians as they always have, and that media needs to recognize our presence ... just like cops need to recognize our humanity."