Jimmy Fallon Just Gave Us the 'Saved by The Bell' Reunion We've All Been Waiting For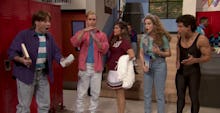 "Bayside High. The home of babes, books ... and Belding."
Continuing his string of hilarious sketches and videos this week while hosting The Tonight Show from Los Angeles, on Wednesday night, Jimmy Fallon brought together the original cast of Saved by the Bell for a mini-reunion on his late night talk show.
The cast included Mark-Paul Gosselaar as Zachary "Zack" Morris, Mario Lopez as Albert Clifford "A.C." Slater, Dennis Haskins as Mr. Richard Belding, Elizabeth Berkley as Jessie Spano and Tiffani Thiessen as Kelly Kapowski.
Take a look:
The sketch mixed callbacks to the original '90s show with some pretty funny references to real-life things that have happened for the actors since, including this interaction:
Jimmy: "Guys, I actually have to let you something, I'm not going to the dance. I'm moving to New York to be a comedian."
Also, considering Saved by the Bell went off the air in 1993, most of the original actors do look pretty good, which actually makes the sketch even funnier. As one of the most popular shows in the '90s, it's not too surprising Fallon tried to reunite the crew from Bayside High. The surprising part is that it actually worked.