California Lawmakers Are Finally Taking a Stand Against the Anti-Vaccine Movement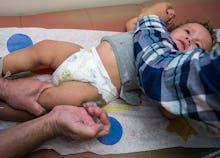 The news: On Wednesday, two Democratic California lawmakers revealed plans to propose legislation that would require all parents to vaccinate their children unless there is a health risk. It would end the rights of parents to exempt their children from school vaccinations for personal or religious beliefs. If successful, California would become just the third state in the country with such a restriction.
State Sens. Ben Allen and Richard Pan, who is also a licensed pediatrician, announced their intentions in the wake of a measles outbreak that as infected more than 100 people, 92 of them in California following an incident at the Disneyland Parks where it was revealed many children had not received the proper vaccinations. 
"People are starting to realize, 'I'm vulnerable, my children are vulnerable,'" Sen. Pan of Sacramento said at a press conference, according to the Associated Press. "We should not wait for more children to sicken or die before we act. As a pediatrician, I have personally witnessed children suffering lifelong injury or death from vaccine-preventable infection. This does not have to happen."
The background: According to the Los Angeles Times, parents of 13,592 kindergarten students in California have opted out of vaccinations for personal beliefs, and 2,764 of those involved religious beliefs. In the past seven years, vaccine opt-out rates in California have doubled to a state average of 3.15%, and as high as 7.57% in Marin County. 
Many of these parents withheld vaccinations from their children because of a pervasive but debunked myth about the potential physical or mental dangers of vaccines. Under the newly proposed restrictions, just 0.2% of all California children — roughly 1,000 — have a medical exemption that would be preserved.
Currently, Mississippi and West Virginia are the only two states that do not allow religious exemptions for vaccinations, but California might soon be joining them. Though he preserved religious opt-out rights in 2012, Democratic California Gov. Jerry Brown appears to be open to the new restrictions proposed in the forthcoming bill.
"The governor believes that vaccinations are profoundly important and a major public health benefit, and any bill that reaches his desk will be closely considered," spokesperson Evan Westrup wrote in an email to the AP. 
Separately: California Sens. Barbara Boxer and Dianne Feinstein sent an open letter Wednesday to the state's top health officials asking them to reconsider the state's policies on vaccines after the recent outbreaks.
"While a small number of children cannot be vaccinated due to an underlying medical condition, we believe there should be no such thing as a philosophical or personal belief exemption, since everyone uses public spaces," they wrote. "As we have learned in the past month, parents who refuse to vaccinate their children not only put their own family at risk, but they also endanger other families who choose to vaccinate."