The Heartbreaking Reason Serena Williams Hasn't Played This One Tournament in 14 Years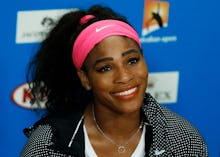 It might not seem possible today, but over a decade and numerous Grand Slam titles ago, Serena Williams and her family endured such harsh and racially tinged treatment during a tournament that they vowed never to return.
Williams, who's since become one of the greatest women's tennis players of all time, hasn't played at the Indian Wells tournament in California for 14 years, functionally boycotting it after an unfortunate string of events. In 2001, she and sister Venus were set to meet in the semifinal, but Venus withdrew shortly before the match due to an injury. As a result, some accused their father and coach, Richard, of deciding who would win matches. Throughout the final, fans booed and heckled Serena, with her dad also claiming to have been subjected to racist taunts.
As a result, Serena has bypassed the tournament every year. But this year, Williams aims to write a new chapter in her already storied legacy: She will play at Indian Wells in March. 
"I no longer want to let a single, unfortunate incident overshadow all the great memories that my family has created there," she said in a video released Wednesday. "I'd like my return to Indian Wells to positively impact the lives of countless others."
In a column for Time, Williams reflected on how the experience at Indian Wells created long-lasting implications for her family and her self-confidence. 
"Throughout my whole career, integrity has been everything to me. It is also everything and more to Venus. The false allegations that our matches were fixed hurt, cut and ripped into us deeply," she wrote. "The under­current of racism was painful, confusing and unfair. In a game I loved with all my heart, at one of my most cherished tournaments, I suddenly felt unwelcome, alone and afraid." For her father, the taunts had another layer of significance, sparking disturbing memories of his experiences growing up in the South. 
Williams said her return to Indian Wells is about more than putting the painful incident behind her. It's also a lesson in forgiveness. 
"I was raised by my mom to love and forgive freely. 'When you stand praying, forgive whatever you have against anyone, so that your Father who is in the heavens may also forgive you' (Mark 11:25). I have faith that fans at Indian Wells have grown with the game and know me better than they did in 2001," Williams wrote for Time.
The sisters' presence in the tennis world has been nothing short of historic, the product of a long journey that started in Compton, California, where they practiced on pothole-laden courts. In 2002, Venus became the first black female tennis player in the Open Era to reach the top spot in the rankings. And following her Australian Open win in January, Serena holds the record for second-most Grand Slam wins in the Open Era, the period where most of the top tennis tournaments allowed professionals and amateurs alike to compete. 
But even athletes who dominate in their field are affected by prejudice. Williams is returning as a completely different person at a different stage of career. She has nothing to lose. 
By returning to Indian Wells, Williams demonstrates both the painful impact of racism as well as the potential to triumph over it. She's also sending a message that, indeed, with time, there's room for second chances.  
"Indian Wells was a pivotal moment of my story, and I am a part of the tournament's story as well," Williams wrote for Time. "Together we have a chance to write a different ­ending."