New UN Report Details the Heinous Crimes the Islamic State Is Committing Against Children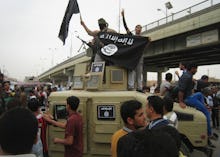 A new report from the United Nations' Convention on the Rights of the Child details the terrible atrocities experienced by Iraqi children at the hands of the Islamic State group, including accounts of mass executions of boys, beheadings and crucifixions. 
The report, released Wednesday, says that children have been buried alive, sold at markets as sex slaves, used by the militant group as suicide bombers and human shields and sexually assaulted in makeshift prisons. Parents have also been forced to hand over their children to the militants or risk having them killed.
The committee noted that while Iraqi children also face threats from other groups, the extremist militants of the Islamic State group are responsible for some of the most harrowing atrocities.
"We are really deeply concerned at torture and murder of those children, especially those belonging to minorities, but not only from minorities," committee expert Renate Winter said at a press conference, according to Reuters. "The scope of the problem is huge." 
The minority groups to which Winter is referring — and for which the committee as a whole emphasized particular concern — include Christians, Kurds and Yazidis, the latter of whom have faced especially violent persecution at the hands of the Islamic State group. The report noted that these communities "are systematically killed, tortured, raped, forced to convert to Islam [and] cut off from humanitarian assistance."
Winter also said that the group has also been using children who are mentally challenged for their operations.
"We have had reports of children, especially children who are mentally challenged, who have been used as suicide bombers, most probably without them even understanding," she told Reuters. "There was a video placed [online] that showed children at a very young age, approximately 8 years of age and younger, to be trained already to become child soldiers."
A terrifyingly violent modus operandi: The U.N.'s latest report is yet another horrifying example of the Islamic State group's depravity. They are, after all, behind countless beheadings and campaigns of ethnic cleansing carried out on a "historic scale," according to Amnesty International.
Most recently, the group released a video showing captured Jordanian air force pilot Mouath al-Kasaesbeh being burned alive in a cage. Jordan immediately responded, executing two Iraqi jihadists and promising to ramp up military action against the militants.
"We are waging this war to protect our faith, our values and human principles, and our war for their sake will be relentless and will hit them in their own ground," state television reported Jordan's King Abdullah as saying, according to Reuters. The Jordanian leader cut short a visit to the White House in order to return home.
Following the release of the video, President Barack Obama decried the inhumanity of the group. "It's just one more indication of the viciousness and barbarity of this organization," he said in a statement, according to the Huffington Post.