Pope Francis Has Taken the Stand Against Sex Abusers the Church Needed Years Ago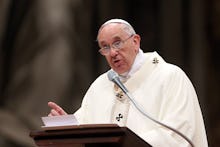 The news: On Thursday, Pope Francis published an open letter to Catholic bishops of the world, doubling down on the church's reinvigorated stand against sex abuse and ordering all members of the church to cooperate with any investigations into abuse allegations, reports NBC News.
"Families need to know that the church is making every effort to protect their children," the pontiff wrote. "They should also know that they have every right to turn to the church with full confidence, for it is a safe and secure home. Consequently, priority must not be given to any other kind of concern, whatever its nature, such as the desire to avoid scandal, since there is absolutely no place in ministry for those who abuse minors."
The letter comes just one day before the first full meeting of the church's commission on the issue to investigate and prevent sex abuse within the church.
"It is the responsibility of diocesan bishops and major superiors to ascertain that the safety of minors and vulnerable adults is assured in parishes and other church institutions," Francis wrote. "For all of these reasons, I now ask for your close and complete cooperation with the Commission for the Protection of Minors."
The background: After meeting with victims of abuse last year, Francis established the Pontifical Commission for the Protection of Minors, a commission tasked with protecting minors from abuse by clerics and unearthing any new scandals. The commission was created in March 2014 and, after speaking with victims of abuse in July that "deeply moved" him, Francis added new members to the group in December. 
Sensing potential pushback from members of the church, Marie Collins of Ireland, a member of the commission and a victim of sexual abuse, told Reuters that the commission had asked for such a letter from the pope to counter any resistance from the bishops. 
"Bishops' conferences have various views on abuse, as we know. In my own country, Ireland, there was a great deal of resistance to change, to putting in all the correct, necessary prevention measures and treating survivors in the right way," Collins told Reuters. "You must pre-empt that. If the commission wants cooperation ... then I think a letter from the Holy Father indicating that [the bishops] should cooperate certainly lends the backing necessary to our work.'"
For years, the Catholic Church has been mired in various sexual abuse scandals and has been criticized for handling the incident internally and shuffling around known abusers rather than defrocking them and turning them over to the authorities. Reuters notes that the church has also paid ten of millions of dollars in a number of developed countries in sexual abuse cases. 
While a single letter might not be enough to tackle this long-running major problem within the church, Francis is taking the matter very seriously. Hopefully the rest of the church will too.