Taylor Swift Just Did Something Only Whitney Houston Has Ever Accomplished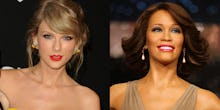 Once the debate over Taylor Swift's belly button dies down, fans may realize that she just made history. In fact, she just did what only Whitney Houston has done before: Swift is the only other female artist to place multiple albums at the No. 1 spot for over 10 weeks on the Billboard 200. She just made a historic album even more historic.
This week, 1989 hit the No. 1 spot for the 10th non-consecutive week, while in 2009, Swift's Fearless held the No. 1 spot for 11 weeks. Houston did it three times; the third time was for the Bodyguard soundtrack, which reigned the charts for an astounding 20 weeks in 1992 and 1993. Whether you love her or hate her, Swift's chart accomplishment is undeniably a big feat.
Besides Swift and Houston, there have only been five acts to achieve such chart-topping success: the Beatles, Elvis Presley, the Kingston Trio, Henry Mancini and the Monkees. Swift is among important company, but her chart-topping success is historic in a different way too: It's a sign of just how much music is changing. Last week, 1989 sold only 71,000 albums, making it the lowest-selling No. 1 album since Sia's 1000 Forms of Fear hit No. 1 over the summer and sold just 52,000 copies. This is only a reflection of how different music is now than it was in Houston's time.
But Swift is dominant all the same. On the Billboard Hot 100, which charts the top singles, Mark Ronson's "Uptown Funk" has held the No. 1 spot for 12 weeks running. Swift, meanwhile, still has two songs on the Hot 100: "Blank Space" at No. 4 and "Shake It Off" at No. 9. She steam-rolled through 2014, and her success doesn't seem like it'll be flagging any time soon.
h/t Rolling Stone