4 Powerful Stories Reveal Why Craigslist Missed Connections Still Matter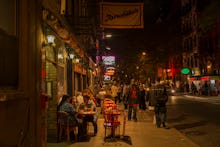 Some of the most celebrated love stories in Western culture start with missed connections. 
Romeo and Juliet's story begins when he spies her from across the room. Prince Charming's encounter with Cinderella sends him banging on doors and trying to squeeze strangers' feet into her slipper. Even the Beatles, with "I've Just Seen a Face" and "I Saw Her Standing There," were inspired by connections lost.
Craigslist's Missed Connections have captured that human impulse for 15 years. Situated between the Casual Encounters and the Rants and Raves sections on the popular listings website, Missed Connections float the full spectrum of human desire from the carnal to the creepy, the sensual to the sullen. It's the granddaddy of Internet romance, antiquated by the likes of Tinder, OkCupid and Grindr. 
And yet it persists. The appeal of Missed Connections is not romantic, per se. Sure, on the surface, the postings hint at a romance that could have been, a meet-cute deferred by chance. But the more of them you read, the more you find that they're not about love or even lust so much as they're about longing. They are an opportunity to reflect on the past, to clarify needs, to express desire — in short, to relive a single moment in order to gain something new.
That's why we're drawn to both reading and posting them after all these years. At least that's what we found after speaking to Sarah, Marques, Sam and Yemar. Here's why Missed Connections still matter.
They can help us move on with our lives.
Sarah's studio space is tight and cluttered. All around the tables are hand-coiled sculptures, amorphous vase-like figures with manikin feet and hands jutting out from inside of them.
"It has to do with the allegory of St. Margaret," she tells me, "the patron saint of childbirth."
Sarah, 23, has a wiry frame hidden beneath an oversized white tee, kind eyes and orange hair reminiscent of Jell-O. In November, Sarah ended a three-year relationship that was always on and off. The day of the breakup, she was stewing at work, thinking about the relationship and what went wrong. So she decided to take a walk. On this particular day, the city was just settling into fall.
"She was on the phone and turns to me, and she says, 'I love your hair,'" Sarah says, describing the moment she saw her "angel with blue hair." "We had this moment in the middle of the street. I was just dumbfounded and afterward I couldn't stop thinking about her. It was this short moment, but it has such a powerful impact on me. I felt like I was walking on air." That night, she posted on Missed Connections.
Sarah is not what I expect someone who posts on Missed Connections to be like. She laughs and smiles often, making prolonged eye contact. She's a realist about dating in New York City, admitting that for the most part, it sucks. She's a romantic of a very measured sort. It's not that I necessarily think everyone who posts is some sleazy stalker or lonely creep. But whoever I imagined, it wasn't her.
Sarah, on the other hand, says that when she reads the listings, she always kind of imagines herself. Even though her post never reached the person was intended for, that's not the point. The missed connection was a glimpse into the future, a moment she says made her aware that "life will move on," she tells me. "I think it consoled me. I'm still thinking of her, this fictional person. She's not even real anymore."
If Sarah were to see her blue-haired angel again, she would would say something, or at least that's what she would like to think. She's almost confident she would. Or maybe, she laughs, she could post another Missed Connection.
They give us space to express how we really feel.
Marques' downstairs neighbors in Brooklyn love techno music. The living room vibrates a low frequency as he sets two cups of tea on the table. Twenty-seven but with a much younger appearance, Marques recently moved from Tucson, Arizona, to New York to pursue a career in writing, but he currently pays the bills with a day job at an upscale shoe store on the Upper West Side.
That's what brought him to the area where he saw her.
"We locked eyes for a second," he says, "and then as I was leaving [and] she was coming in, we locked eyes again. And I guess that's what sparked me. I knew I was going to write something."
It does not surprise me that Marques is a poet, or that he plans to use his Missed Connection post in an upcoming book of his work. At one point he compares Missed Connections to a message in a bottle. He's a romantic, one of those who are keenly aware of how little love exists in the world and how much he has to give. That's what connects him to the rest of the people who post on the listings, he says.
"It's not [that] they're trying to find this person, but really that they're trying to let out this emotion they have built up and, in a way, it's good because there aren't a lot of outlets to do that," Marques says. "The reason I started writing in the first place was because I was always afraid to say what I wanted to say, especially to women. That's what I see when I read Missed Connections."
Marques is not shy about his emotions, and he speaks with a sort of dated sentimentality that's rare to find in people his age. In the way he describes meeting "the girl with the beanie hat", it's obvious he was taking stock of every moment, the way she smiled and looked at him. When he talks about her, it's with the sort of distant-eyed look of someone who's lost something that he still remembers but will never regain. I remind him that the girl works around the corner from his workplace. The connection is not missed, just unpursued for now.
For him, that is Missed Connection's other purpose.
"Writing it down for me is a way of saying to myself, 'This is what you can do. You can do this.' It's my way of saying you have the power to do it, you've already got it on paper," he says.
He theorizes that others who post may also be trying to build themselves up, to become the kind of people who can say what they mean out loud. "At the end of the day, though," he smiles, "it's nice to just get the feelings out."
They help us realize the kind of people we really need.
In an email message, Sam, 22, wrote: 
"I identified as a bisexual male for the majority of my life, but this past year I discovered I am transgender. It hasn't been easy, but I have learned to accept myself. I sometimes feel very distant from humanity as a whole.
"In May, I had a casual encounter with a man that was incredible. It was a great bonding experience. ... Before I left, I scribbled down some contact information and a cute note, hoping he would get in contact with me the next morning. 
"I posted the Missed Connection hoping to be reunited with him, at the very least so I could do the right thing, apologize for leaving and to pay him for half of the hotel stay. I felt that he put in a great deal of effort for our encounter to happen and what I did was extremely rude.
"[After] I had spent months feeling the loneliness all over again, it dawned on me. I didn't want to meet someone new. This man made me feel safe, secure, happy, interested, special, carefree and, most of all, beautiful. This was a learning experience more for him for than me, but he put so much effort into having a good time with me that I respected him so much. I had extremely high hopes and decided to post my Missed Connection so I could return the experience. This was my first time posting in the Missed Connections section.
"I have received about seven or eight responses. Most of them have been pretty lackluster, like 'Hey' or 'Wanna be friends?' There haven't been any that sparked my interest.
"The only revelation I had about myself was one in regard to what my life has come to. I realized that I posted an ad looking for someone I had a one-night stand with. It has led me to understand just how in need of love I really am and also how little love there is in my life."
They remind us to appreciate the relationships we've had.
They met on MySpace, if that helps you understand how long Yemar, now 28, has known Anthony. They were both in high school when they started talking, back when Anthony was a little more "preppy" and Yemar was more "goth," by his account.
"You know," he says, "black hair, piercings, black nail polish, that sort of thing."
They still had plenty in common, including a love of video games, and they both lived in New York. What began as simple online flirting blossomed into an eight-year relationship.
When I meet Yemar, he has just gotten off work at his dog-walking job. He's a big guy, but it's the bleached hair and the piercing in the center of his lip that draw the most attention. He's wearing a black hoodie and a pin of a manga character, Sergeant Keroro, on his chest. When I ask him about Anthony, he doesn't answer immediately, pursing his lips then explaining slowly.
As the pair's relationship grew, they would hang out with Yemar's sister in Greenwich Village or walk by the pier, holding one another for warmth. Even Yemar's mother, who refuses to accept that he is gay, knew about them and liked Anthony.
"She still asks about him," he says, "and I have to lie to her and tell her that he's doing great, that he's living in Philadelphia or something."
They haven't spoken in almost three years. Yemar and Anthony had a huge fight, "the biggest one we've ever had," Yemar says. The fight came at a tense time for Anthony. He had been battling cancer for several years and began pushing people away, including his family. 
Yemar had actually proposed to Anthony in 2011, and he yes. But a year later, while chatting online, Anthony let slip that he was HIV positive, a fact he claimed he told Yemar the year before but that Yemar says was new information. Looking back, Yemar says he jumped to conclusions too quickly and lashed out on Anthony.
"I wasn't thinking," he says, "I was a hothead back then."  
Yemar hadn't read Missed Connections before. It's his first time posting, and he still hasn't received any responses. But he's exhausted any other resources he had, including friends of friends and Facebook. At this point, he's just waiting, hoping that someone will see the post and pass on his message. Yemar makes sure to remind me that he is not looking for a relationship with Anthony again. Above all else, he's worried about his friend's health, about whether he's getting better.
"I'm not asking him to be my man," he says,  "I'm not asking to get back together again. I just want to be his friend. He understands me more than anyone I've ever been with. I want to start all over."
The fleeting moments that inspire Missed Connections can leave a lasting impact. Jim Buckmaster, the CEO of Craigslist and creator of Missed Connections, described the listings as endlessly intriguing "because they mix the natural desire to make a good first impression and the very human need to get a second chance."  
Love and lust are just starting points for Missed Connections. After all, in an age when everyone is just a swipe away from a potential date, we can easily find romance and sex without resorting to antiquated message boards.
But what the listings lack in technological precision is what makes them so special. They capture the stuff that love only offers up when you're not looking for it: consolation, clarity, courage. You can find those things with another human being, but you can also find them in the endless search for someone, seeking a second chance for what could have been, ultimately finding resolution within yourself.