Why the U.S. Mental Health Care System Needs More Places for People to Just Chill Out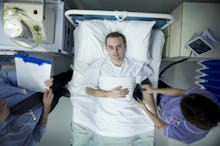 On Jan. 18, 2011, Misha Kessler opened the window of his dorm room at George Washington University, where he was a sophomore, climbed onto the window ledge and prepared to jump into the winter night. Kessler had been dealing with anxiety and other mental health issues since the summer. Earlier that day, after a week without sleep, he'd had his first-ever panic attack.
Kessler's lack of control over his own mental state scared him, as did preparing for a six-story free-fall. But the scariest part of that night came later, when he voluntarily went to the emergency room. The prospect of going to the psych ward, to join the real crazy people, Kessler recalls, terrified him more than deliberating suicide.
"I still had the basic idea of a psych ward from TV," he said. "But when I got there, the other people were a lot like me, just experiencing too much stress without the right coping mechanisms."
In the end, he was glad he went. While the process of handing over his personal belongings and donning a hospital gown was by no means pleasant, Kessler knew he needed to get out of his dorm room and put his fate in someone else's hands. In fact, he credits his two-night stay in the psychiatric ward with saving his life. Today, as a suicide prevention specialist, Kessler urges teenagers and young adults who find themselves in a dark place to go get help, even if that means checking in somewhere so they don't check out.
Note: Kessler talks about his suicide attempt in the video below.
But Kessler ended up at the hospital because he didn't see another option. Emergency rooms are designed to revive trauma victims and pump stomachs, not address mental health crises. Patients who need immediate psychiatric care endure a drawn-out intake process that often involves repeatedly explaining why they're at the ER and waiting hours for beds to free up in a psych unit. It's re-traumatizing, ineffective and expensive. That's why Illinois created  Living Rooms, state-funded, alternative ER centers for mental health crises.
The U.S. has radically shifted its approach to psychiatric care a number of times. During the second half of the 20th century, a policy of deinstitutionalization resulted in the discharge of thousands of mentally ill and developmentally disabled Americans from psychiatric hospitals, many of which subsequently shut down. The policy, though well-intentioned, received criticism for leaving former in-patients to flounder.
Similar criticism resurfaced recently, when studies revealed just how many incarcerated Americans suffer from severe mental illness. At least 15% of state prison inmates have a psychotic disorder. Some argue that the U.S. just shifted the burden — jails are the new mental hospitals. We haven't quite figured out a system of comprehensive mental health care that doesn't infringe on people's basic civil rights.
More Living Rooms may be part of the solution.
Illinois opened the first of its five Living Rooms in 2011 as a non-clinical crisis center for people in the throes of a mental health meltdown. People can drop in to get immediate help and access to resources for longer-term care. A mental health crisis, to use the same definition as The Living Room does, is "a state in which an individual becomes overwhelmed and their usual coping mechanisms are not adequate, which leave them with disorganized thoughts and life processes ... if a crisis state is not properly treated, the condition can quickly escalate, leading to a mental health emergency."
As the name suggests, the centers are supposed to feel more like homes than hospitals. When guests walk into the Living Room, according to a 2014 study published in the journal Issues in Mental Health Nursing, staff members greet them "with open arms" and offer beverages — anything to make them feel at home, supported and in control of their own treatment.
It's really a disarmingly simple idea: Normalize the practice of seeking help and offer people a place to chill out when they feel bad.
Within the mental health field, the Living Room is thought to be a creative approach, according to Ken Duckworth, medical director at the National Alliance on Mental Illness.
In addition to keeping doctors and psychiatric nurses on staff, the centers employ peer counselors who have been through, and emerged from, mental health crises themselves. Their presence has proven to be a strength of the Living Room model, according to Living Room coordinator Peter Robichaux. The stubborn stigma surrounding mental illness often makes people hesitant to seek treatment and uncomfortable when they do. Peer counselors get it; they've been there too. As one peer counselor said in the Issues in Mental Health Nursing study, "We're not going to judge you because we are you."
Kessler, who works at the Campbell Center, a D.C.-based nonprofit, says that peer support is a resource in hospitals too. As important as high-quality doctors are, young adults benefit when relatable liaisons enter the picture.
The Living Room model of care jibes with psychiatrist Patrick Corrigan's theory of destigmatization. Corrigan, a researcher at the Illinois Institute of Technology, believes that destigmatizing mental illness hinges on more people coming out as having a mentall illness. We can learn about the causes and rates of various mood disorders, but living and working alongside people who've openly battled schizophrenia or bipolar disease is ultimately the way to change public perception. Corrigan looks to the gay rights movement for comparison. The movement really took off, he pointed out, when non-straight people became more visible in everyday life.
The Living Room model also helps stretch the state's health care budget. During its first year, the original Living Room had 228 visits from 87 guests, most of them diverted from the ER, which saved upwards of $500,000.
It's really a disarmingly simple idea: Normalize the practice of seeking help and offer people a place to chill out when they feel bad. And while Illinois' Living Rooms stand out in the U.S., non-clinical mental health care centers are the norm in Australia. In 2006, the Australian government launched Headspace, a national network of fully funded health care centers where Australians between the ages of 12 and 25 go when they're having a tough time. People can stop in whether they're battling ongoing mental illness or just feeling stressed and lonely.
The Living Room approach may be catching on stateside too. Over the past few months, mental health urgent care centers have popped up on both coasts. Los Angeles County officials opened one such center in late 2014 to relieve pressure from county hospitals and jails running low on psychiatric beds. In January, Rhode Island opened its first walk-in mental health urgent care center for similar reasons, according to an AP story. Both facilities seem to skew more clinical than the Living Room, but they fill the same broad purpose: to be there for people who need help and provide services specifically tailored to mental illness. One county supervisor who led the effort in LA, Kaiser Health News reported, described the center as a more humane approach than traditional hospitalization.
It's hard to say that any single service will fix our mental health care system, but based on history, we're willing to make big changes. The Living Room model shows that small changes — a place to go, people to talk to — may be just as important.
Correction: March 17, 2015