On Bob Marley's 70th Birthday, His Estate Is Giving Fans an Incredible Gift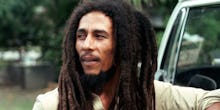 Beloved reggae superstar Bob Marley would have been 70 on Friday. To celebrate the occasion, the late singer's estate is giving a birthday gift to Marley's devoted fans: unseen video of the reggae star in action.
Marley's estate plans on releasing a wealth of previously unseen and unheard material, including footage from two historic live shows at Boston's Music Hall from June 1978.
According to the Telegraph, the live performance package, which includes a 13-song CD and 7-song, 46-minute DVD/Blu-Ray disc, is set for release on Feb. 17. Watch the a trailer below.
Here's how Island Records, which is producing the release, described the footage:
In this, Bob Marley's 70th birthday year, there will be a variety of releases and events to commemorate the Legend, his work and iconic impact. Over the course of the year, his legacy will be remembered by new releases of rare and unreleased material as well as fan favorite deluxe editions of his most memorable work.
"The footage that makes up the performance was shot by a fan, with gaps in the video (which occurred when the cameraman was changing reels) replaced with animated sequences set to music," writes the Telegraph. "Throughout the year, the estate will also be overseeing deluxe editions of Marley's most memorable albums."
The release is a fitting way to honor Marley, and it's the perfect reminder for his younger adherents about the power of his music.
"Though his legacy inspired millions, Marley's continued importance is arguably due to the fact that nobody has been able to carry on his legacy in the ways that really count," Mic's Tom Barnes wrote in November 2014. "He almost singlehandedly popularized reggae, sharing its social critique and upbeat, inspirational positivity with the world. Yet since his death, it's continued as a popular sound without any of its original social consciousness."
If the trailer for the Boston performances is any indication, Marley's estate isn't just giving his fans a rare gift of unseen material — it's yet another reminder of the musician's enduring legacy.
The CD:
1. Slave Driver
2. Burnin' and Lootin
3. Them Belly Full
4. The Heathen
5. Rebel Music
6. I Shot the Sheriff
7. Easy Skanking
8. No Woman, No Cry
9. Lively Up Yourself
10. Jammin'
11. War/No More Trouble
12. Get Up Stand Up
13. Exodus
Blu-Ray/DVD:
1. Rebel Music
2. I Shot the Sheriff
3. No Woman, No Cry
4. Lively Up Yourself
5. Jamming
6. War/No More Trouble
7. Exodus