Watch Will Smith and Jimmy Fallon Cover 'It Takes Two' Using Only an iPad App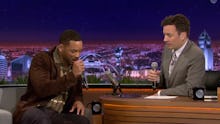 It's easy forget that before he was one of the most sought-after stars in Hollywood, Will Smith was a fairly talented rapper and lyricist. 
On Thursday's Tonight Show, Fallon and Smith joined forces to create an intricate beatbox loop using an iPad app to sing "It Takes Two" by Rob Base & DJ E-Z Rock. The two were eventually joined by the Roots, but the initial mix is, well, fairly remarkable.
Check it out:
Happy Friday!