Meet the Teen Girls Using Tech to Fight Everyday Sexism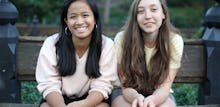 What tools do women need to fight everyday sexist attitudes? According to teen coders Andrea Gonzales and Sophie Houser, they can start with their phones.
Thanks to the duo's two recent games, "Tampon Run" (which launched in iOS this week) and "Catcall Run" (which, according to the Verge, earned them recognition as finalists in a Stanford hackathon), women everywhere can fight back against sexist cultural attitudes and practices on their phone screens.
The backstory: It all began in July 2013, when state troopers allowed Texas State Capitol visitors to carry guns into a hearing about abortion restrictions — while deeming tampons unacceptable and confiscating them, according to the Mary Sue. In response, Gonzales and Houser released Tampon Run in September 2014. In the game, players fight the stigma of menstruation by throwing tampons at their enemies. They developed it while participating in the Girls Who Code summer immersion program that same year. 
The girls' goal, according to Mic's Michael McCutcheon, was to challenge the idea that "in society, we're more comfortable with guns and violence than we are with teaching girls to be comfortable with their bodies." Reshma Saujani, founder and CEO of Girls Who Code, commends this mission. "Tampon Run really exemplifies what we're trying to do at Girls Who Code, which is to empower girls to use technology to solve problems in the world," Saujani told Mic.
Gonzales and Houser consider the game part of a larger mission. The duo continued to work on the project through the winter with Pivotal Labs and recently applied a similar framework to another sexist issue that every woman faces: catcalling. "Catcall Run," Houser told the Verge, emphasizes the power of education by allowing players to throw "tools of empowerment," such as pencils and computers, at oncoming catcallers.
The takeaway: Everyday acts of sexism are awful, but they're so normalized that most men and women never even notice them. This reality is backed by research and countless individuals' experiences. But now women are using technology to fight back against pervasive sexism, and they might help change the conversation altogether. 
Gonzales and Houser may be some of the youngest women using tech to challenge everyday sexism, but they're in good (and growing) company. Emily May launched Hollaback! (a platform to challenge street harassment) in 2005, and the organization Miss Representation launched an app called "Not Buying It" in 2014 that allows women to challenge sexism in advertising. 
Their efforts demonstrate the importance of not only using feminist-friendly apps, but educating and empowering women to create them in the first place. Girls Who Code founder Saujani agrees. "The fact that girls like Sophie and Andy are using technology and building apps to challenge sexism is so powerful," she told Mic. "Learning to code isn't just about closing the gender gap in the tech industry, but it's actually a secret weapon." 
h/t The Mary Sue