Japan's Government Wants to Pass a Law That U.S. Workers Desperately Need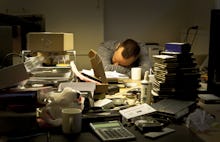 Workaholics, you've been put on notice. 
The Japanese government has plans to introduce legislation that would make it compulsory for employees to take at least five paid vacation days per year. In doing so, Prime Minister Shinzo Abe's administration hopes to tame the country's notoriously intense workaholic culture and preserve the health of its workers.
The Associated Press reports that the Japanese government has been looking into laws like this for years to cut down on the health problems related the country's frenetic and overstressed work culture. A 2013 survey by Japan's Ministry of Health, Labor and Welfare found that employees only took nine vacation days per year, even though they were entitled to an average of 18.5. A separate poll found that 1 out of every 6 workers didn't take any vacation days at all, according to the Japan Times.
Japanese workers also spend an average of 1,735 hours per year at their jobs. Though it's not quite as high a number as South Korea, where employees clock in a staggering 2,163 hours yearly, Japan still beats out Western countries England, France and Germany. Likewise, more than 20% of the Japanese spend over 49 hours at work per week, compared with 16.4% of Americans and just 10.5% of Germans.
There's a more sobering reason for the legislation. Working too much doesn't just lead to a haggard appearance, lack of friends and virtually non-existent social life: It also has real health consequences.
These consequences are particularly acute in Japan, where the mental and physical strain from overwork has become so bad there's even a name for work-related deaths — karoshi, which roughly translates to "death from overwork." This morbid acknowledgement of overwork's health came into existence in the 1970s, when the amount of Japanese men working over 60 hours a week skyrocketed: In 2007, the government reported 2,207 work-related suicides a years, according to the Washington Post. The primary physical causes of death are heart attacks and strokes relating to stress and long work hours.
The mental pressure can be equally as horrific. As Shiho Fukada at the Pulitzer Center reported in 2013, nearly a third of suicides in Japan in 2012 were believed to stem from overwork. Indeed, the Washington Post noted in 2007 that some 672 out of the 2,207 suicides cited in Japanese government figures were attributed to overwork. 
One such suicide, Fukada noted, prompted the deceased man's mother to seek out his supervisor.
"Everybody suffers from depression here," he told her. "You have to work through it with medication. Learning to work with depression is true sign of professionalism."
The U.S. could learn something from this policy. Though the problem of working to death is not as prevalent in the United States as in Japan, Americans still suffer from the health effects of overwork. The United States is the only advanced economy in the world that doesn't guarantee paid vacation or holidays, and it shows — Americans are overworked and exhausted. Employees spend an average of 1,788 hours working per year, and we're awfully fond of working nights and weekends. 
Just this week, the American Psychological Association released its annual Stress in America survey, which found that Americans worry about work more than anything except money. 
Part of the problem stems from the division between our work and home lives becoming thinner than ever. It's true we have less leisure time on the whole, but the rise of smartphones and laptops has introduced office stress into our living rooms. The American Psychological Association warns that such pressure can cause problems like depression, high blood pressure, anxiety and insomnia.
Some Western countries have attempted to mitigate the osmosis between work and home. Germany, for example, is considering a ban on late night work emails, prompted by the potential for overwork. 
"There is an undeniable relationship between constant availability and the increase of mental illness," German Labor Minister Andrea Nahles told the Rheinische Post in August 2014. "We have commissioned the Federal Institute for Occupational Safety and Health to work out whether it is possible to set load thresholds. We need universal and legally binding criteria."
Most American companies, however, have yet to make such a move, to the detriment of their workers: Recent research from the British Psychological Society found that employees who use devices like phones and laptops to stay connected outside of the office may face "detrimental effects to their well-being and private life."
Mandatory vacation days won't magically dissolve America's — or Japan's, for that matter — deeply ingrained culture of workaholism, but it's a decent way to start.