Show These 21 Historic Snubs to Anyone Who Thinks the Grammys Represent Real Music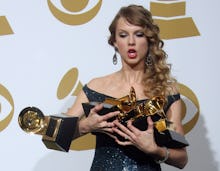 Every year, Grammy voters overlook classic records for Album of the Year nominations like it's their job. This year, critically acclaimed albums like Kelis' Food, Lana Del Rey's Ultraviolence, Aphex Twin's Syro and FKA Twigs' LP 1 all got snubbed in favor of records like Pharrell's inconsistent Girl and the bland X by "nice guy" Ed Sheeran.
This is how it always is: Throughout the Grammys' 55-year history, they have rarely lived up to their mission to "honor artistic achievement, technical proficiency and overall excellence in the recording industry, without regard to album sales or chart position." If the Grammys are to be believed, Bob Marley, Jimmy Hendrix and Bob Dylan's masterpieces are all footnotes in music history. If future generations looked to the awards to learn our musical history, they'd see a completely twisted picture of what music actually matters to our culture.
Here are 21 legendary albums that the Grammys didn't even deign to nominate for Album of the Year. These albums are proof that the Grammys don't know what real music is, and important musical legacies to remember before the 57th Grammys on Sunday.
1. Kind of Blue by Miles Davis
Released: August 1959
Snubbed: Second annual Grammys, held in 1960
Way before the Grammys were snubbing black rappers, they were snubbing black jazz artists. Miles Davis' Kind of Blue is one of the most groundbreaking and top-selling jazz albums ever recorded. It popularized modal jazz. Rolling Stone placed the record at No. 12 on its list of the 500 Greatest Albums of All Time, writing that it "[broke] new ground with warmth, subtlety and understatement in the thick of hard bop." But at the time, Davis' musical innovations just couldn't stand up to the majesty of Henry Mancini's More Music From Peter Gunn or the first volume of music from the naval documentary Victory at Sea, both of which are now completely forgotten.
2. A Love Supreme by John Coltrane
Released: February 1965
Snubbed: Eighth annual Grammys, held in 1966
John Coltrane — Davis' saxophonist from 1955 up through Kind of Blue and another immortal jazz pioneer — was also cheated out of a nomination for his masterpiece, A Love Supreme. Composed as a hymn to the glory of God, it showcased his peerless rhythm section and the vigorously, expressive improvisational style that would influence generations of musicians to come. Future Grammy favorites Carlos Santana, Bono of U2 and Steve Reich have all named this album as a revelatory influence. Unfortunately, Coltrane got beat out of his nomination by none other than Barbra Streisand, who has a mall in her basement.
3. Blonde on Blonde by Bob Dylan
Released: May 1966
Snubbed: Ninth annual Grammys, held in 1967
The Grammys were extraordinarily late to hop on the Bob Dylan train. It was only when his legacy was assured and his lyrics far less revolutionary that he actually received an Album of the Year nomination for 1998's Time Out of Mind. That album is solid, but it pales in comparison to the lyrical brilliance of Blonde on Blonde, or any of his vital protest albums from the '60s and '70s. Suffering a similar fate to Coltrane, Dylan's '67 masterpiece was also edged out of a nomination by a Barbra Streisand album. 
Thankfully, this would be the last Barbra Streisand record to score Album of the Year nomination until 1981, the year The Clash's London Calling failed to receive a nomination.
4. Pet Sounds by The Beach Boys
Released: May 1966
Snubbed: Ninth annual Grammys, held in 1967
The intricate harmonies and complex songwriting of the Beach Boys' Pet Sounds almost single-handedly saved their legacy. Though the album didn't sell well, it was a profound influence on the Beatles during their psychedelic period; they hat-tipped the album on Sgt. Peppers Lonely Hearts Club Band. Coincidentally, the Beach Boys' Pet Sounds was released on the exact same day as Dylan's Blonde on Blonde. The Grammy voting committee must have been sick that day.
5. The Velvet Underground & Nico by The Velvet Underground
Released: March 1967
Snubbed: 10th annual Grammys, held in 1968
The Velvet Underground's debut album was a challenging work for its time. It suffered dismal sales, but as Brian Eno (famed producer and founder of Roxy Music) once said, "Everyone who bought one of those 30,000 copies started a band." The album had a massive influence on late-'60s psychedelia and early punk music, with Patti Smith, the Sex Pistols, Talking Heads, U2, REM, Roxy Music and Sonic Youth all citing the Velvet Underground as a major influence. Of course our country's most well-established musical institution, made up entirely of esteemed critics, artists and industry experts, failed to recognize it.
6. Electric Ladyland by Jimi Hendrix
Released: October 1968
Snubbed: 11th annual Grammys, held in 1969
Now that he's long dead, Jimi Hendrix is widely recognized as one of the most influential guitar players ever to live. He earned a Grammy Lifetime Achievement Award in 1992. But while he was alive and reshaping the future of music, he never won a thing. There's a small solace in knowing that while our greatest musical geniuses may never get the recognition they deserve while they're alive, the Grammys will one day honor them with a contrived speech and/or tribute concert.
7. What's Going On by Marvin Gaye
Released: May 1971
Snubbed: 14th annual Grammys, held in 1972
Intended to smash Motown's pop formula, Marvin Gaye's What's Going On functioned as a holistic soul symphony. The process of making the album infuriated Motown's label heads, who demanded that records focus on hit singles. But it was a massive critical and commercial success nonetheless. It completely redefined R&B and soul, and it successfully brought new levels of social consciousness to Motown (which then attempted to repeat the album's achievements with numerous similar albums). 
But in 1972, the Grammys chose to recognize the overblown rock opera Jesus Christ Superstar over Gaye's earnest meditations on truth, peace and divinity.
8. Blue by Joni Mitchell
Released: June 1971
Snubbed: 14th annual Grammys, held in 1972
In a piece discussing its legacy, the Atlantic's Jack Hamilton described Joni Mitchell's Blue as the "most vivid autopsy of romantic relationships ever put to record." Her immortal love songs have been covered by diverse artists like Prince, Sarah McLachlan and James Blake. But she admits to drawing much of her storytelling and personal narrative styles from Bob Dylan; so, in a bizarre way, it makes sense that the Grammys ignored her early masterpieces too.
9. IV by Led Zeppelin
Released: November 1971
Snubbed: 15th annual Grammys, held in 1973
Led Zeppelin's untitled fourth album blessed rock and roll with some of the most iconic riffs that it has ever heard. They were so fresh, so inventive and so heavy that they inadvertently spawned entirely new subgenres, metal and hard rock, adding even more diversity to the American canon. No album in Led Zeppelin's catalog is a better fit for an Album of the Year nomination. But the sad truth is that no Led Zeppelin album has ever been nominated for Album of the Year.
Also snubbed: The Rolling Stones' Exile on Mainstreet and David Bowie's Ziggy Stardust. Nominated instead was a second Jesus Christ Superstar album (this one a live recording from the original Broadway cast instead of 1970's London production cast).
10. The Dark Side of the Moon by Pink Floyd
Released: March 1973
Snubbed: 16th annual Grammys, held in 1974
In a documentary celebrating the legacy of Dark Side of the Moon, Pink Floyd's Roger Waters once described it as "an expression of political, philosophical, humanitarian empathy that was desperate to get out." The album lived up to his ambitions. Its lyrics sprawl across a range of topics, including mental illness, war, greed and mortality. But it maintained a unified sonic fingerprint that completely redefined our concept of what a concept album could be. Unfortunately, Bette Midler, Charlie Rich and Roberta Flack all got nominations instead.
11. Horses by Patti Smith
Released: December 1975
Snubbed: 19th annual Grammys, held in 1977
Patti Smith's Horses opens with perhaps the most subversive line in music history: "Jesus died for somebody's sins, but not mine." Her lyrics defied religious dogmatism, political conceits and gender norms. Its iconoclasm has long been celebrated as the spark that ignited the punk revolution. Her socially conscious legacy's influence extends to the unlikeliest places. This past Christmas, she was invited to perform at a musical service at the Vatican. Boz Scaggs, Peter Frampton and George Benson — all of whom got the nomination instead of her that year — don't even come close to her influence.
12. Exodus by Bob Marley
Released: June 1977
Snubbed: 20th annual Grammys, held in 1978
Bob Marley has established one of the most enduring musical legacies the world has ever seen. His music, which he attempted to use to dismantle forces of oppression around the world, has resonated with people from all backgrounds and nationalities. Marley himself never cared about accolades, rewards or riches, but it would have been heartening to see his musical legacy get the recognition it deserved.
13. London Calling by The Clash
Released: December 1979
Snubbed: 23rd annual Grammys, held in 1981
On London Calling, the Clash somehow managed to blend punk, reggae, rockabilly, soul, R&B and ska, all while making that fusion feel completely organic. It was well-versed in music history (they styled its cover as a modern reimagining of Elvis Presley's self-titled debut album) while charging triumphantly ahead, helping acclimate audiences to new levels of ferocity in their pop. The Clash would receive even greater commercial success on their next album, Combat Rock, but neither would be honored with an Album of the Year nomination.
14. Remain in Light by Talking Heads
Released: October 1980
Snubbed: 24th annual Grammys, held in 1982
The Talking Heads' fourth album showed the '80s alt-rock outfit at their most experimental and ambitious. It completely pushed the envelope as to what artists could accomplish with tape loops and sampling. Tracks like "The Great Curve" have a distinct afro-beat feel, while "The Overlord" boasts some fascinatingly dark ambient textures on songs (contributed by the album's producer Brian Eno, the godfather of ambient music). But for all its sonic oddities, it's still extremely catchy and accessible. It was still not accessible enough for the Grammy committee, who overlooked it for frequent Streisand collaborator Kim Carnes' Mistaken Identity.
15. Harvest Moon by Neil Young
Released: October 1992
Snubbed: 36th annual Grammys, held in 1994
Neil Young, one of America's finest folk songwriters, completely lost his way for a time in the 1980s. After releasing multiple albums of floundering new wave experiments, he got back to his roots on 1992's Harvest Moon. To this day, the collection of acoustic guitar-driven ballads he penned remains one of his finest albums. It was a miraculous achievement, and proof that "rock 'n' roll can begin again at 40-something," as the Rolling Stone opened their '93 profile of the artist. But as with classic rock's most inspired moments, the Grammys couldn't have cared less.
16. Nevermind by Nirvana
Released: September 1991
Snubbed: 34th annual Grammys, held in 1992
Few rock bands loom as large in our current cultural consciousness as Nirvana. Kurt Cobain is still one of the most fascinating cultural figures. "His life and career [are] more thoroughly documented than any of his contemporaries or successors," Pitchfork wrote in a critical evaluation of Nirvana biographies "Is There Anything Left to Say About Kurt Cobain's Legacy?" Nevermind was the band's commercial breakout and most polished work. It was the absolute pinnacle of '90s grunge before rock began its downward spiral into commercial garbage. But it was no Heart in Motion by Christian pop sensation Amy Grant.
17. Ready to Die by Notorious B.I.G.
Released: September 1994
Snubbed: 37th annual Grammys, held in 1995
Few artists have managed to create such a lasting impression on their genre in as short a time as the Notorious B.I.G. Although Biggie's career lasted only five years, he dropped two albums in that time (Ready to Die being the first and most renowned), and they launched him to demigod status. Ready to Die will always be one of the most brilliant examples of hip-hop lyricism, and the Grammys will always be remembered as having forgot it.
18. Voodoo by D'Angelo
Released: January 2000
Snubbed: 43rd annual Grammys, held in 2001
This January marks 15 years since D'Angelo's devilishly funky Voodoo dropped and completely redefined '00s R&B and soul. "Voodoo is as relevant today as it was when it first came out," Beyoncé recently told Saint Heron in a celebration of the album's legacy. "This is the DNA of black music, all the love, pain, social statements and rawness punctuated by his effortless vocal progression from his funky low register to his sexy falsetto." Hopefully, future listeners will find it and experience its mastery without the help of the Grammys.
19. Blueprint by Jay Z
Released: September 2001
Snubbed: 44th annual Grammys, held in 2002
Complex named Blueprint the No. 1 album, Rolling Stone named it No. 4 and Pitchfork gave it No. 5 on their respective 100 Best Albums of the 2000s lists. But the 2002 Grammys were completely blind to its quality. In fact, no Jay Z album has ever been nominated for Album of the Year, despite Jay having the second most No. 1 albums in history, just ahead of Elvis Presley and a few steps behind the Beatles.
20. Demon Days by Gorillaz
Released: May 2005
Snubbed: 48th annual Grammys, held in 2006
Damon Albarn's innovative virtual hip-hop/pop project Gorillaz got a fair amount of love at the 2006 Grammys. The band got nominated for Record of the Year and won a minor accolade for Best Pop Collaboration with "Feel Good Inc." featuring De La Soul. But Demon Days missed the Album of the Year nomination, despite the fact that every song was brilliant and broke a different genre boundary. It has aged incredibly well. The other albums nominated, riddled with duds and filler, have not. Any Grammy voter who actually took the time to listen to U2's How to Dismantle an Atomic Bomb or Mariah Carey's The Emancipation of Mimi and compare it to Demon Days should have heard the drastic disparity in consistency and quality.
21. My Beautiful Dark Twisted Fantasy by Kanye West
Released: November 2010
Snubbed: 54th annual Grammys, held in 2012
Kanye West's My Beautiful Dark Twisted Fantasy is widely considered to be his most fully realized and expertly crafted album. Pitchfork gave it a tremendously rare perfect 10, describing it as the "culmination" of all his previous works (three of which the Grammys did recognize as potential Album(s) of the Year) "and an instant greatest hits, the ultimate realization of his strongest talents and divisive public persona." But the Grammys didn't even give it a nomination. It baffled critics across the Internet, driving one of the most recent and deepest nails into the coffin containing the Grammys' credibility.