Beyoncé Just Released the "Crazy in Love" Remix, and It's Even Better Than the Original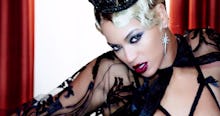 Beyoncé's "Crazy in Love" remix is finally here, and it's amazing. The song, a new version from Beyonce's self-titled album, is among 16 tracks on the Fifty Shades of Grey soundtrack. It's a brilliant reimagining of her debut solo single in 2003 — and a sign of just how far she's come.
Beyoncé's collaborator behind the remix is Boots, the homeless man-turned-superstar producer. The new "Crazy in Love" is hauntingly beautiful; it hearkens back the best of Beyoncé's last record, and it's a brilliant reinterpretation of the original. It's also strikingly similar to Beyoncé and Andre 3000's remix of Amy Winehouse's "Back to Black" for Baz Luhrman's Great Gatsby. 
The Fifty Shades of Grey soundtrack features another Beyoncé song, "Haunted," remixed by Michael Diamond. It's yet to be released, but all of Beyoncé's contributions to the record have been eagerly anticipated since she first revealed her involvement in the soundtrack seven months ago with this clip:
The full soundtrack will be released on Feb. 10. Until then, enjoy the brilliant new "Crazy in Love." 
h/t Cosmopolitan