Our Fascination With Sam Smith's Sexuality Says More About Us Than It Does About Him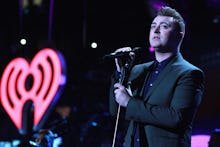 On Thursday, Grammy nominee Sam Smith released a video for his new single "Lay Me Down," and it's been lauded as a revolutionary statement for the LGBT community. The video depicts the full lifecycle of a gay marriage — the wedding that brings two men together and the funeral that drives them apart. But "Lay Me Down" isn't the first time Smith has used a video as a vehicle for LGBT acceptance; his first video, "Leave Your Lover," was Smith's way of coming out.
The lyrics to "Leave Your Lover" are sexually ambiguous: Smith sings, "Leave your lover / Leave him for me," but the video ends by revealing that Smith has been pining after a man all along. Despite the clarity of the video's message, the lyrics' ambiguity have led at least one writer to argue that Smith is trying hard not to be "too gay." In nearly every interview Smith has given regarding music, his sexuality takes center stage. But that says far more about our culture's inability to fully accept him than it does about Smith.
"I wanted my voice to be Story No. 1 when you Googled my name," Smith said in a recent interview with the New York Times. "I didn't want it to be 'Sam Smith, the gay singer.' I wanted it to be 'Sam Smith, the singer who happens to be gay.'" But since those early days, the culture at large has been fixated on his sexuality — and that only speaks volumes about what society expects from gay men in the public eye. Though the LGBT movement has made huge strides, society is still intent on politicizing Smith's homosexuality. Ultimately, Smith isn't espousing gay conservatism; he's just treating his sexuality as a personal thing that doesn't necessarily have to refract through everything he does.
Yet this isn't enough for a lot of commentators. Smith is nominated for six Grammys, more than any other artist except Beyonce, who also has six. He's a front-runner for Best New Artist, and of course people were quick to point out that he would be the first openly gay musician to ever win in that category. (Culture Club won in 1983, but Boy George wasn't "openly gay" at that point.) Apparently Smith's being openly gay isn't enough for some people; one writer said this:
Any gayness on [his album] 'In the Lonely Hour' is implied at best. Smith has often said in interviews that the album is written about one particular unrequited relationship he had with a guy. However, the nuances of that male-on-male interaction or even the use of any gender-specific pronouns like "he" and "him" are, by Smith's own design, almost completely scrubbed from the record.
Meanwhile, the same Gawker writer who accused Smith of gay conservatism pointed out that, when Smith sang a cover of Whitney Houston's "How Will I Know," he changed the the lyrics from "There's a boy I know / He's the one I dream of" to "Oh it's you I know, you're the one I dream of." He said that change "is also the epitome of Smith's negotiation of his sexuality with the public. He is gay ... but he's not too gay, because too gay is still too much for too many people." That writer was one of many who slammed Smith's denouncement of Grindr as part of the same problem.
But this is just a double standard. Smith has made it clear that his music is about his music — it isn't always about his sexuality. Heterosexual musicians aren't assessed based on how "straight" their music is. That Smith is being regarded as "less than gay" for messing with a few pronouns is harmful to the central message of the LGBT movement: equality. And for those who insist on having a reason why Smith isn't "gay enough," consider that he's just 22 and barely out of the closet. When he wrote In the Lonely Hour, he had, by his own admission, never even been in a relationship.
When Smith "officially" came out in an interview with the Fader, he was asked whether he finally felt comfortable speaking openly about his sexuality. He replied, "I want to make it a normality because this is a non-issue. People wouldn't ask a straight person these questions. Why is [my sexuality] a talking point? I'm singing, I'm making music, I'm performing my music — that's what should be the talking point." 
So let's stop arguing about whether Smith is concerned about being "too gay" and ogle at the truly impressive body of work the artist has amassed at 22 years old. Let's gawk at the fact that this man, who was unknown one year ago, is now tied with Beyonce for the most nominations at the 2015 Grammys. Let's shut up about Smith's sexuality and make music the talking point. That's what he wants, and a voice like his deserves to be heard.