Marvel's First Ever All-Female 'Avengers' Comic Is Here — and It's Glorious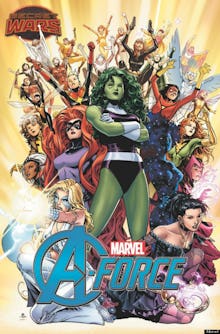 Brace yourself: Marvel Comics is putting together the female supergroup of the century.
"We've purposefully assembled a team composed of very different characters — from disparate parts of the Marvel U, with very different power sets, identities and ideologies," Wilson told USA Today. "They'll all have to come together to answer some big questions: What would you sacrifice to succeed? What is being a hero worth?" The A-Force will also introduce Singularity, a cosmically charged brand-new superhero to the universe.
"Our heroines embody the ideals of what we can each strive to be," Bennett said, according to the Huffington Post.
The new book is more than just a gimmick to help promote the company-wide Secret Wars story arc, which is set to kick off in May. The Huffington Post notes that the all-female book follows Marvel's September announcement that the new Thor would be a woman, a move that, along with the introduction of a Pakistani-American Ms. Marvel, signifies a shift towards stories centered on more diverse characters.
Thankfully, with acclaimed and outspokenly feminist talent like Wilson and Bennett behind it, A-Force looks like it's off to a promising start.
h/t ComicBook.com