Report: Netflix Is Developing a Live-Action 'Legend of Zelda' Series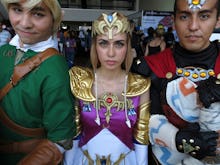 Holy Hyrule! Netflix is reportedly developing a live-action series based on The Legend of Zelda, one of the most popular video games of all time, according to a report in the Wall Street Journal.
The Wall Street Journal reports that Netflix is describing the series, which focuses on the quest of a boy named Link to rescue a princess named Zelda, as "a Game of Thrones for a family audience." Source told the Journal that Netflix is working closely with Nintendo, which has developed about 20 The Legend of Zelda games since the original was released in the U.S. in 1987.
This is big news for Zelda fans. As the Wall Street Journal reports, Nintendo is "very protective of its intellectual property and has allowed few adaptations over the years. An animated Legend of Zelda series ran for just one season in 1989."
But it's also huge for video game fans who want to see their favorite characters make the transition to the silver screen. Past adaptations have been major flops: A 1993 movie based on Nintendo's Super Mario Bros was an infamous bomb, while 1995's Mortal Kombat, which raked in cash at the box office, didn't receive praise from critics. Updated graphics haven't helped: The 2005 adaptation of first-person shooter Doom received dismal reviews as well.
Still, fans of the series should be excited — even if they may end up with this reaction: