Picasso's Granddaughter Plans to Sell His Most Famous Works for Charity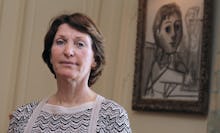 Some of us inherited our grandfather's watch or our grandmother's silver. Marina Picasso inherited more than 10,000 original works by Pablo Picasso — and she plans to sell them.
Marina said in a probing interview with the New York Times that she would flood the art market with an unknown number of Pablo Picasso's iconic paintings, ceramics, drawings and sculptures to raise money for her international charities. The announcement has been met with praise for her philanthropy and frustration from the art world.
Picasso's 64-year-old granddaughter plans to sell the works independently, cutting out the lucrative fees that would normally be due to auction houses, in a bid to send more of the proceeds to her chosen charities, including a pediatric hospital in Vietnam (where she adopted three of her five children) and nonprofits benefiting troubled teens and the elderly in France and Switzerland.
It's not out of love: Marina says her own troubled teen years are behind the generosity. The daughter of Pablo Picasso's eldest son (from his first marriage to Russian ballerina Olga Khokhlova), Marina paints a depressing portrait of a childhood spent in her grandfather's shadow and on the brink of poverty. "People say I should appreciate my inheritance, and I do," Marina told the New York Times, "but it is an inheritance without love."
According to Marina's critical biography of her grandfather, she grew up watching her father stoop to serving as Pablo's driver, begging his wealthy father for money. The famous artist would occasionally create paper flowers for her, but she was forbidden from keeping them. Once her parents divorced, she rarely saw Pablo.
Marina's resentment of her famous grandfather and his family was intensified after her brother, Pablito, was barred from his funeral by Jacqueline Roque, her step-grandmother and Picasso's most celebrated muse. A few days later, Pablito committed suicide by drinking bleach. His funeral was funded by handouts from friends, and Marina, who did not expect any inheritance from her grandfather, supported herself by working in a children's hospice.
"It was really difficult to carry this celebrated name and to have a difficult financial life," she told the New York Times. "I think because of it I developed my sense of humanity and my desire to help others."
This means big business: According to art researcher Artnet, auction sales of Picasso's work amounted to $449 million in 2014 — and Marina owns many of the artist's most celebrated works, including "La Famille," a 1935 portrait of a depressed family at a picnic.
"It's symbolic because I was born in a great family, but it was a family that was not a family," Marina says of the painting.
How much will her sales bring in? It's hard to estimate, since Marina says the auctions will likely take place individually, with no set list of works for sale. But when rumors first emerged that she planned to sell just seven of her grandfather's paintings last year, art experts put the price tag at as much as $304 million.