'Serial' Star, Convicted Murderer Adnan Syed, Has Been Granted an Appeal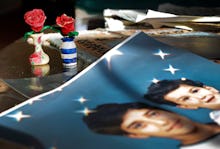 The most popular podcast in history may have helped secure an appeal for a man convicted of murder.
Adnan Syed, who was convicted in 2000 of strangling his ex-girlfriend and burying her body in a shallow grave, was the subject of Serial, a podcast series hosted by Sarah Koenig that investigated the crime and raised numerous questions about the prosecution and Syed's defense. Now, the Maryland Court of Special Appeals has approved Syed's application for an appeal.
"It's the first step in a pretty long process, but we're extremely happy," Syed's attorney, C. Justin Brown, told the Baltimore Sun.
Syed was convicted of the 1999 murder of Hae Min Lee and sentenced to life in prison. After a letter-writing campaign by Syed's family captured Koenig's attention, and Serial became the most downloaded podcast in history, public pressure pushed the state of Maryland to re-evaluate Syed's case. According to the application for leave to appeal, Syed's lawyer, Christina Gutierrez, failed to investigate a credible alibi, Asia McClain, who said she was with Syed at the time the murder took place. McClain has stepped forward and stated that she is willing to testify: "I realized I needed to step forward and make my story known to the court system," she said in an affidavit.
McClain's testimony, which disputes the timeline prosecutors used to allege that Syed strangled Lee, wasn't heard at trial. She told the Baltimore Sun that she has "no doubt" about when and where she saw Syed — which would put a huge hole in the prosecution's case.
Syed's appeal is scheduled to be heard in June.