Craigslist Personal Ads Can Be Blamed for the Spread of HIV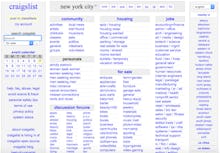 Craigslist personals may be home to the last vestiges of romance in American culture. Just be sure to wear protection.
A new study from MIS Quarterly on the role that Craigslist classifieds play in epidemiology has resulted in a sobering statistic: The availability of online classifieds are associated with a 16% increase in new HIV infections. 
The reason? Internet users are taking advantage of the convenient and anonymous nature of online dating and hookups. That means easier ways of accessing high-risk behaviors. Sex with multiple partners, sex without contraception and sex with no strings attached all represent higher risks of sexually transmitted infections, including HIV, and they are all much more likely to occur after an online introduction.
Due to education, wide availability of condoms and antiretroviral medications, HIV infection rates had been falling or holding steady since the mid-'90s. But starting in 2005, that trend reversed, and rates have continued to climb since. Most epidemiologists blame this increase on the efficacy of viral control efforts; ironically, people know that rates are going down, so they're less careful in their sexual practices.
For these virologists, Craigslist provides a natural experiment: City-specific sites were launched piecemeal, which allows for the comparison of pre- and post-Craigslist HIV infection rates. The study found that within a year of the launch of a locality-specific Craigslist page, HIV infections began to rise in that area. Even controlling for demographic and epidemiological variables, the study's authors found that "a 10% increase in the daily number of personal ads leads to a 0.7% increase in HIV cases annually in a state."
That's no small number: This works out to a 16% increase in infection (or 6,000 additional HIV cases every year) adding $60 million to our U.S. health care costs annually. Of course, Craigslist isn't the only website or app that facilitates easy, no-fuss hookups — everything from Grindr to JDate could theoretically be contributing to the rise in infections.
But in the meantime, whether you're cruising Craigslist Missed Connections or swiping right on Tindr, make sure to wear protection. According to the Centers for Disease Control and Prevention, fewer than 25% of sexually active men and fewer than 22% women between the ages of 15 and 44 consistently used condoms between 2006-2010. In 2013 alone, more than 20 million new sexually transmitted infections were diagnosed per year, along with 3.2 million unintended pregnancies.
h/t Arstechnica