China Has Seized 8,000 Rolls of Toilet Paper With the Face of Hong Kong's Leader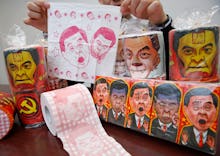 Officials in China have confiscated 8,000 rolls of toilet paper and 20,000 packets of tissues printed with unflattering cartoons of Hong Kong Chief Executive Leung Chun-ying, according to the Associated Press.
According to Lo Kin-hei, a vice chairman of the Hong Kong Democratic Party, the toilet paper was set to be sold at a market in Hong Kong to celebrate the Chinese New Year later this month. The seizure occurred weeks after massive pro-democracy protests in Hong Kong featured demonstrators demanding greater political freedom. Those protesters specifically targeted Hong Kong Chief Executive Leung Chun-ying with their criticism, decrying him as a puppet of the mainland government and calling for his resignation.
The toilet paper, with an estimated value of $12,900, featured the word "LYING" written on Leung's forehead; other caricatures showed the chief executive with fangs, a not-so-subtle reference to Leung's nickname: "The Wolf."
The government gave no reason for the seizure. "I guess [the Chinese authorities] don't like people mocking government officials, especially high-ranking government officials, after the movement. They have become more cautious about criticisms about them," Lo said.
Last year, the party printed 4,000 rolls of toilet paper with Leung's image that sold out almost instantly at the Hong Kong holiday markets. So unless the Hong Kong Democratic Party can loosen the government's grip on its T.P., pro-democracy activists in Hong Kong are going to have a bleak New Year.